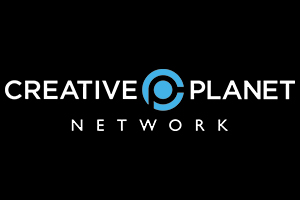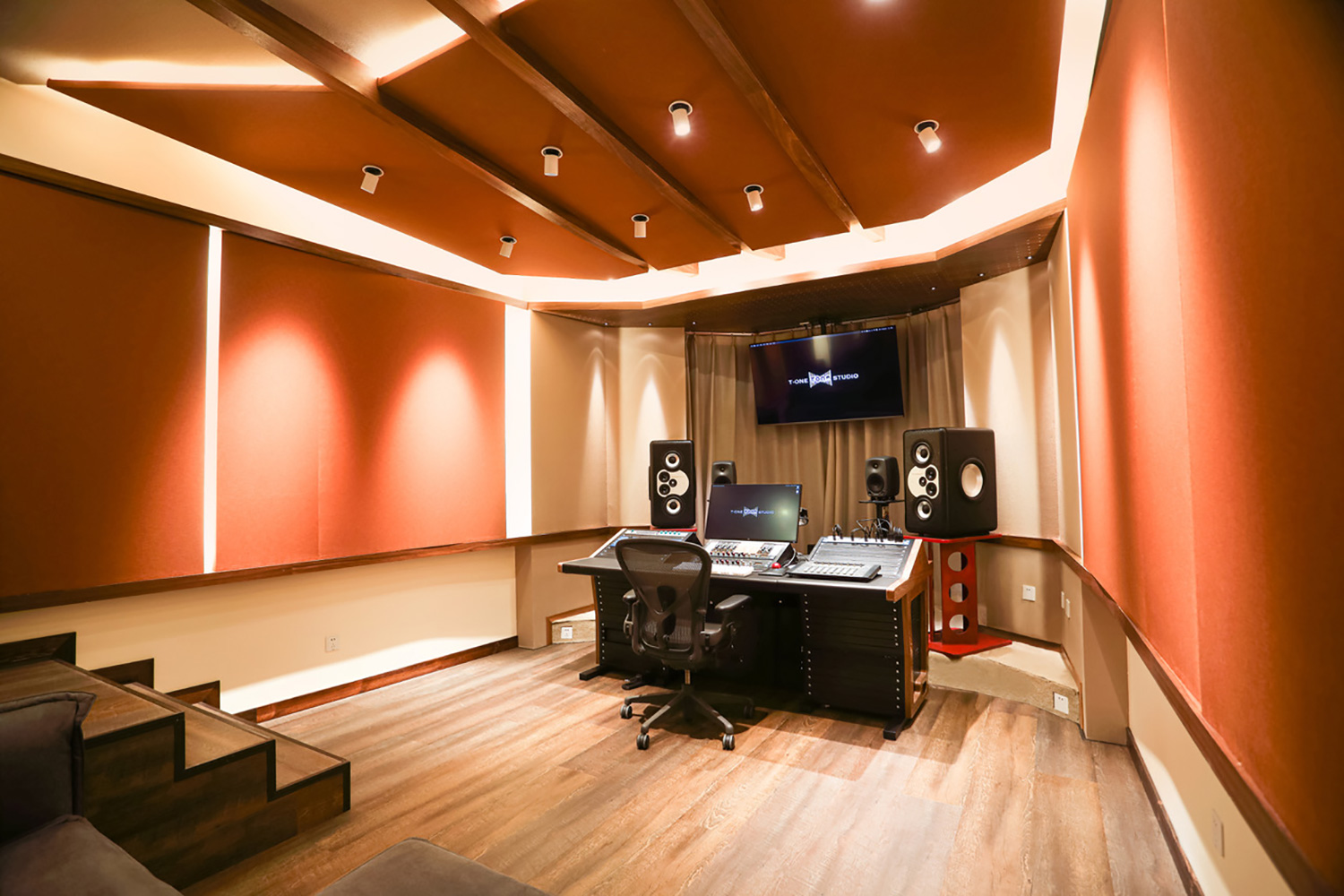 HOHHOT NEI MONGOLIA, CHINA – Global acoustic consulting and A/V integration firm WSDG have announced the completion of work on T-One Studios, the first professional recording studio of its kind in China's Inner Mongolia province. The brainchild of successful Chinese recording engineer Qiwu Tan and his producer/business partner Yi He, the world-class recording studio is notable for the fact that its design and construction were supervised remotely by WSDG's project managers as part of their 'Virtual Design Program' which allowed them to provide all the necessary design, services, and supervision without setting foot in the actual studio before it was completed in under a year largely unaffected by the global pandemic lockdowns.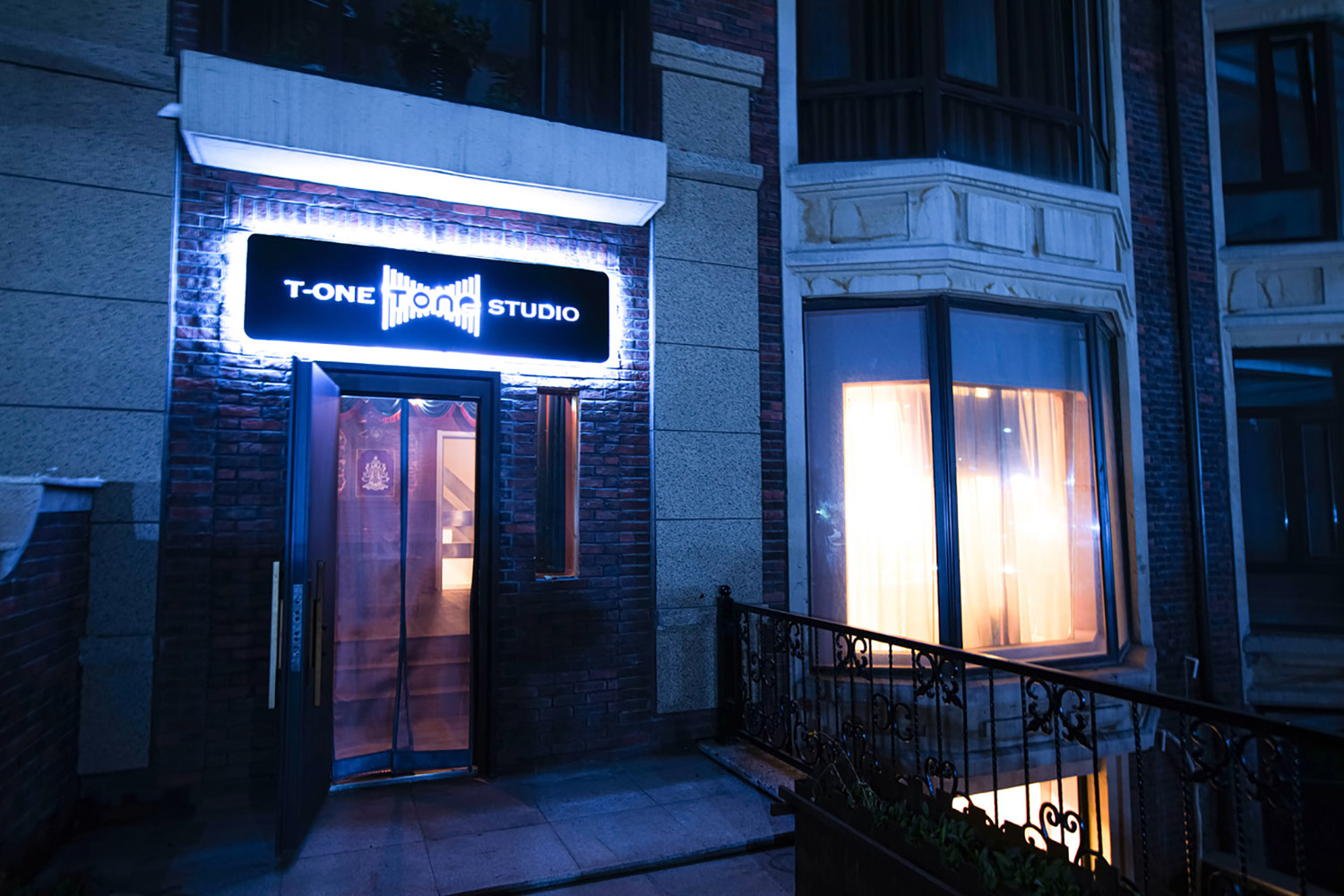 Serving the larger musical community
As important figures in China's rapidly growing professional recording community, Tan and He were driven to build a world-class studio in Hohhot Nei to serve the needs of the wide array of music that has always been present in Inner Mongolia but  only recently begun to make its presence known globally. "Inner Mongolia has a long history of music appreciation, and many talented artists and producers," explained Yi He. "The need for a high-end studio was very clear to us and Qiwu Tan and I were confident that a studio of this caliber would be a tremendous asset to our musical community."
Inspired by WSDG's long history of innovation in recording studio design, the partners reached out to the globally recognized firm to bring their dream to fruition – a studio that would be capable of recording the wide range of musical styles present in the region, from traditional Mongolian, folk, and classical music, to pop, rock, jazz, and R&B which have all become staples of China's recording industry. "We knew we would require a live room capable of serving a very diverse client base with the utmost flexibility," said Qiwu Tan. "We were impressed by WSDG's past studios and knew that they would be the best fit for us."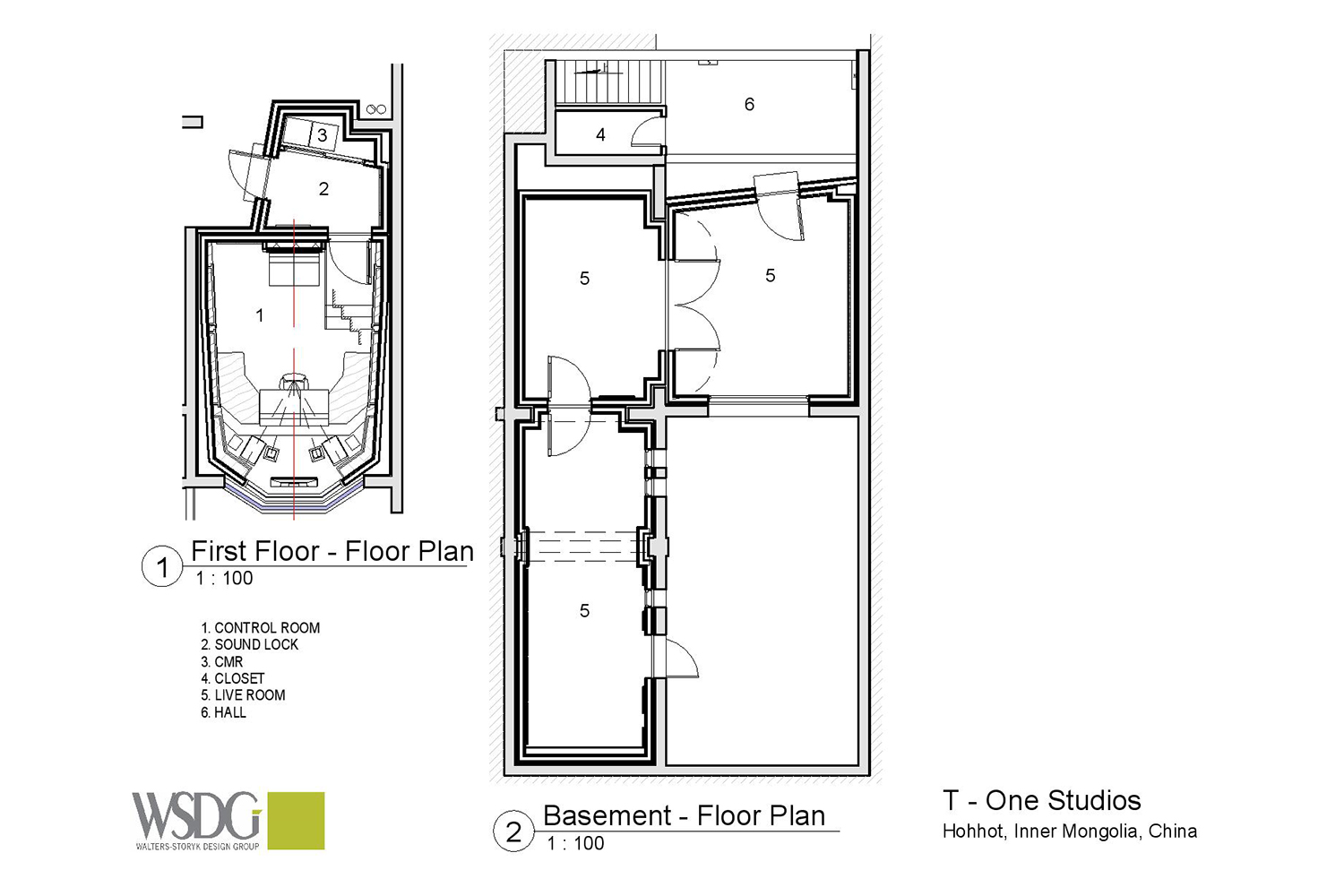 Remote mastery
Qiwu Tan and He Yi had selected a 2150 sq. ft. duplex space in a fine residential building with all the prerequisites for an ideal recording studio.  They envisioned a ground floor "sunken" 237 sq. ft. Control Room linked to a basement-level Live, Iso and Live Room complex.  All three elements of the basement compound would be linked to the Control Room for recording and mixing and built with full room-within-room construction to insure absolute sound isolation.  WSDG Partner and Director of Business Development Sergio Molho and WSDG China Representative Victor Cañellas met with the partners in Beijing and assured them that  a world-class studio in Hohhot was a realistic goal.
The design process took a turn when the world was shuttered by the COVID19 pandemic, which ground most world architecture and design projects to a halt. T-One Studios was able to persist  thanks to the potent combination of cutting-edge acoustic simulation tools and remote collaboration that has become a mainstay of WSDG's acoustic design work.  "Our robust project management and experimental work in acoustic calculation and simulation proved highly effective in maximizing every inch of T-One's available space and in developing acoustic treatments that ensure superlative sound recording and playback," said Molho. "The fact that we were able to do all this from the other side of the globe during a pandemic was a groundbreaking achievement for us and illustrates how our 'Virtual Design Program' can serve clients around the world."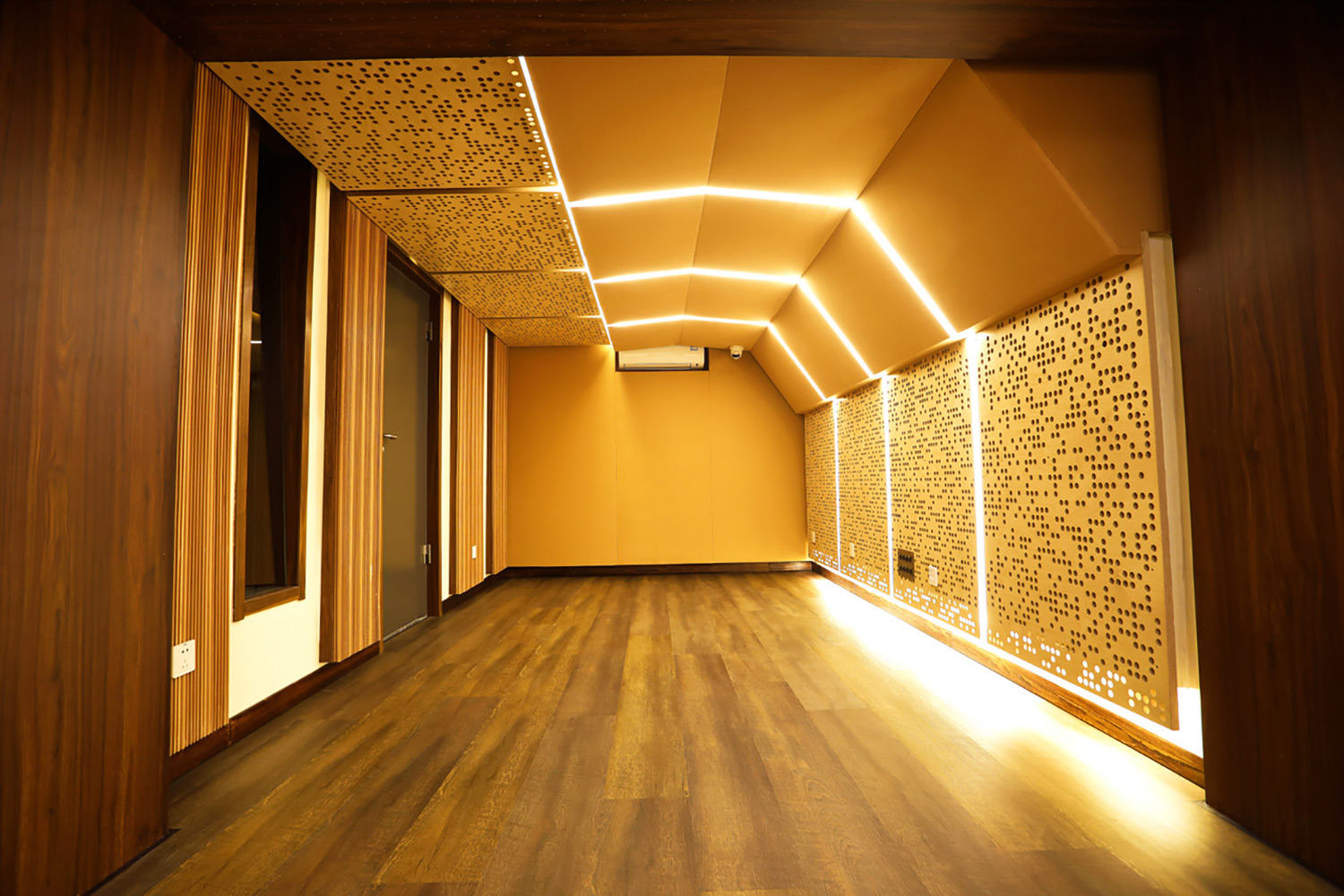 'Flawless'
WSDG Partner and Art Director Silvia Molho created a uniquely modernistic yet warmly creative environment for T-One.  Extensive use of perforated wood and stretch fabric-covered wall-panels and innovative "ribbed" varied-depth ceiling treatments are accented by innovative strip lighting, and baseboard floor illumination.  T-One Studio reflects an exceptional global collaboration, and resulted in an elegant studio, designed to create outstanding world music.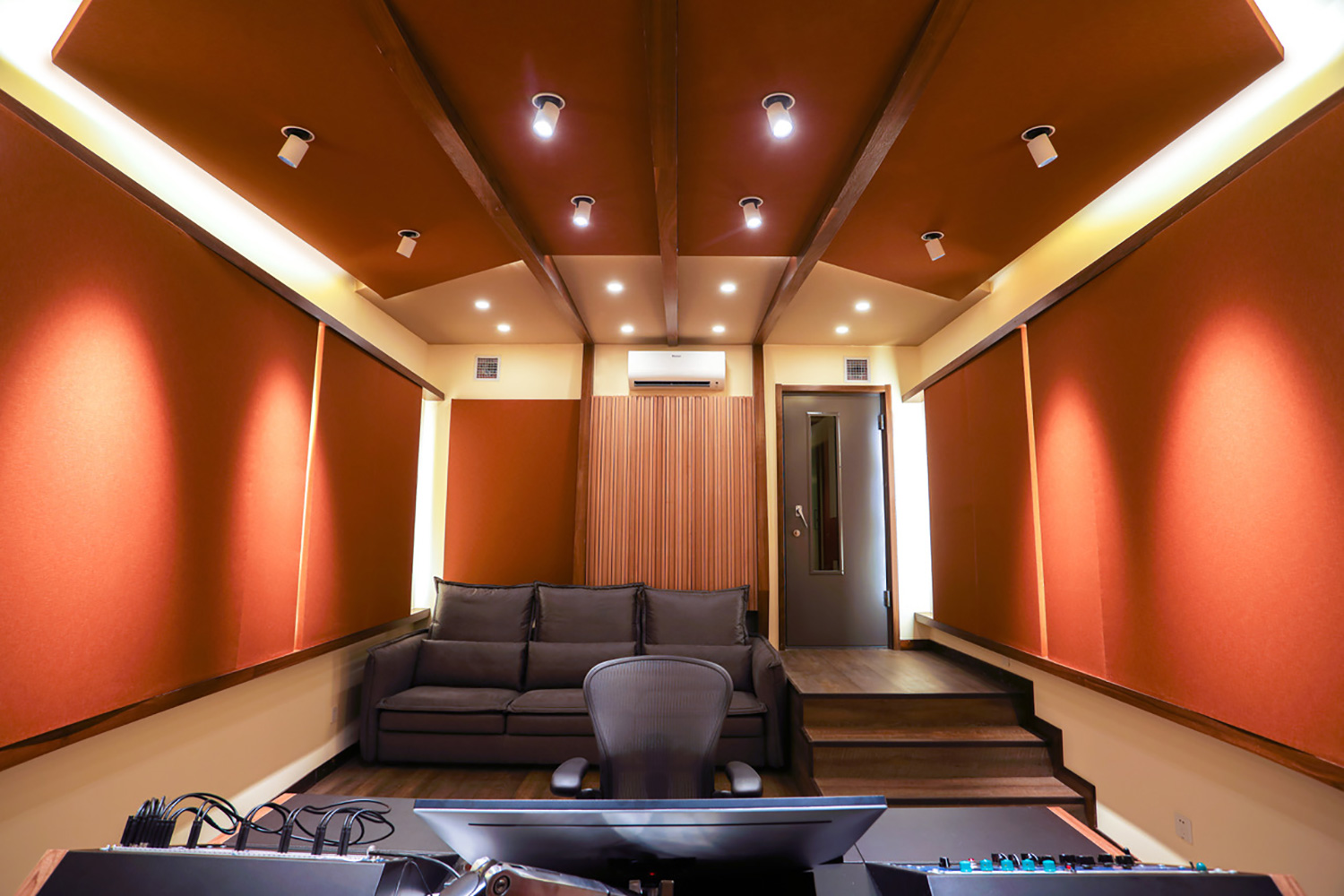 "T-One is my first personal recording studio, and I am extremely pleased with the way it looks and sounds," Qiwu Tan said.  "We found the entire WSDG team to be serious, responsible and highly professional.  They provided us with excellent support and important suggestions. Our initial recording dates have all confirmed the wisdom of our decision to work with them. T-One looks as beautiful and sounds as flawless as any recording facility I have ever worked in."