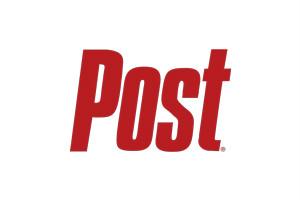 HIGHLAND, NY — Walters-Storyk Design Group (www.wsdg.com) recently completed studio design for three international facilities. In Medellin, Colombia, WSDG worked with Clap Studios, which is situated within the Medellin Audiovisual Center.
Clap Studios' new 600-square-foot dubbing theater was created to provide local and international content creators with a world-class facility for mixing and screening.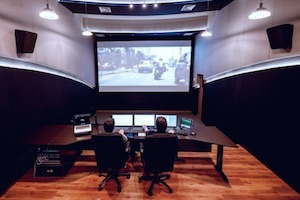 The desk is set on a raised, highly polished wooden platform before a handsome, wooden rear wall diffuser. The walls and 14-foot-high ceiling have been treated with fabric-covered absorptive elements to insure proper acoustics for the JBL 7.1 loudspeaker system. The room also features Avid's Pro Tools HD, and a Dolby Digital film processing unit. The installation was supervised, evaluated, and certified by Dolby representatives from Mexico and Los Angeles. The complex includes a 5.1 Surround mixing studio for TV, a Foley studio, an ADR/VO dubbing room, editing suites, and a full range of sound design, mixing recording and support services. A Dolby Atmos system is projected for future installation.
London-based sound engineer/supervisor, Daniel Jaramillo designed the audio/visual integration program, and head of production, Daniel Vasquez served as general project director. WSDG partner/art director Silvia Molho collaborated with WSDG Latin Partner, Renato Cipriano to create the theater's elegant interior and smart lighting design plan.
WildSound Studios
In the Philippines, WildSound Studios has opened a new Dolby Atmos audio mixing studio. Company owners Mike Idioma and Tony Tuviera found an ideal space in Quezon City's Sampaguita Pictures Compound, and reached out to the Walters-Storyk Design Group to create a state-of-the-art mixing theater.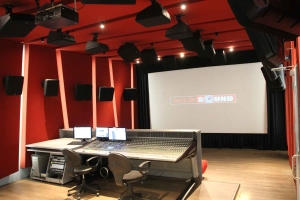 WSDG Brazil partner Renato Cipriano met with Idioma to discuss the new studio. The WildSound team envisioned a spacious mixing theater with a large screen, multi format projection, an expansive mixing desk, comfortable seating and impeccable acoustics. In addition to superb technical qualifications, the 640-square-foot room with an 11-foot-high ceiling had to have an aesthetically pleasing atmosphere.
Emblazoned with deep red fabric covered wall and ceiling acoustic panels, and a handsome natural wood rear wall resonator, the WildSound mixing suite is a vibrant workplace. Seven banks of Dolby-certified, Atmos speakers set in groupings of four each on the side and rear walls and two ceiling mounted quartet banks, provide the room with surround sound monitoring. The mixing desk features an Avid Icon D-Control ES, with 32 faders. A 240-inch perforated diagonal screen allows for picture playback and central monitoring.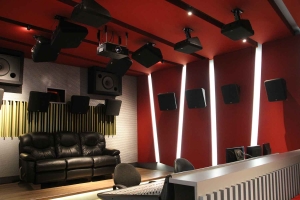 The room's plush red fabric client couch was set on a three-foot-high platform in front of the desk and well within the mixing area's sweet spot. WildSound also offers services such as sound effect design, Foley, localization and synching services.
"WildSound is considered as one of the Philippines' most creative and technically advanced sound recording and mixing companies," Renato Cipriano notes.  Their credits include numerous award-winning films. The new Dolby Atmos Mixing Suite represents an important step in their continuing growth, and WSDG is delighted to help them create this impeccable room."
Katara Studios
And the biggest recent project for WSDG was completed in Doha, the capitol and principal city of Qatar. Katara Studios is one of the Middle East's largest and most technically advanced recording/feature film audio post production complexes. The 65,000-square-foot compound was commissioned by The Katara Committee and dates back to 2012, when WSDG was retained by Elie Wakim, head of the acoustical division of leading Doha-based, Imar Trading & Contracting.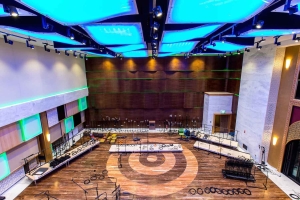 "The new building, developed by London-based ADG, had just been completed in Doha's Middle Eastern Art Development Center," explains WSDG principal/director of international relations, Sergio Molho. "Metropolis, a major London recording studio, had developed the extensive technology package, and was engaged to coordinate the system integration. The project required high-level studio and interior design, as well as a commensurate HVAC system and, expert construction oversight to monitor the complex sound isolation issues essential to critical recording and listening environments."
Katara is a sprawling, 40-plus-room complex. Its centerpiece is the 3,000-plus square foot Studio 1 Live (orchestral) Room, with a 30-foot ceiling and capable of hosting more than 80 musician. The studio boasts a 729-square-foot control room, with a 96-fader Neve 88RS console and 5.1 PCM BB5 surround sound system; three spacious, multi-configurable, ISO booths; and a large mezzanine and VIP lounge.
The facility's 546-square-foot Studio 2 Live (rock 'n' roll) Room has a  435-square-foot control room outfitted with an 80-channel API Vision console.
"We were fortunate to have the opportunity to collaborate with Elie Wakim and Imar Trading & Contracting on this complex project," says Molho. "They proved to be extremely proficient in all the critical technical fields, and our joint effort enabled the project to be completed well within its projected ten month construction deadline."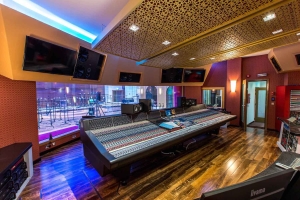 "This extraordinary facility required an extremely complex acoustic program," adds WSDG project manager, Joshua Morris. "The business plan was to provide Middle Eastern artists with a superb alternative to European studios and, simultaneously establish Doha as an appealing destination for international recording artists. To achieve this mandate, every effort was made to insure that each Katara Studio component met the most stringent pro audio requirements.
Aesthetics were a critical element of the studio plan. Elie Wakim and Katara Studios management were committed to incorporating authentic Arabic design elements throughout the complex. WSDG co-principal/interior designer, Beth Walters, and partner/art director, Silvia Molho performed extensive research on Islamic and Muslim graphic arts and architecture and incorporated elements of intricately patterned Islamic calligraphy and mosaics throughout the complex.
To complete the fine-tuning process of the control and live rooms, WSDG Brazil partner/GM, Renato Cipriano, WSDG Europe, partner/GM Dirk Noy, and the entire international group including project engineers, Gabriel Hauser and Thomas Wenger, collaborated on low frequency design, and comprehensive acoustic analysis and prediction. Additionally, Silvia Molho envisioned a series of innovative "Magic Ceiling Cubes," to serve as membranic, low frequency absorbers, and to provide mood lighting for Studio 1. She worked closely with WSDG/Spain, project engineer, Marc Viadu to identify fabricators for these handsome, custom-built ceiling clouds.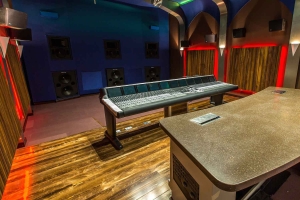 WSDG founder/principal, John Storyk points to Katara Studios as one of the high points in the firm's 45-plus-year history. "Elements of this complex are genuinely unique," Storyk says.  "In addition to the ingenious Magic Ceiling Cubes, the Studio 1 Live Room's three oversized ISO booths can be re-configured in a variety of permutations. They can serve as independent spaces, as one large and one small ISO, as a single large ISO or, as an extension of the Live Room, as a variable acoustic element to increase its volume and reverberation time. Additionally, their large pocketing, acoustic sliding glass doors provide complete visual contact between all three ISO booths and the Live Room."