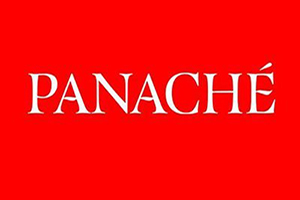 Interview by Tricia Williamson
John Storyk, registered architect and acoustician, is a founding partner of WSDG. He has provided design and construction supervision services for the professional audio and video recording community since the 1969 design of Jimi Hendrix's Electric Lady Studios in New York City. Beyond an architect, Storyk is many things, he is a musician, art lover, history buff, pilot, passionate scuba diver, dedicated father and husband and loyal friend to many.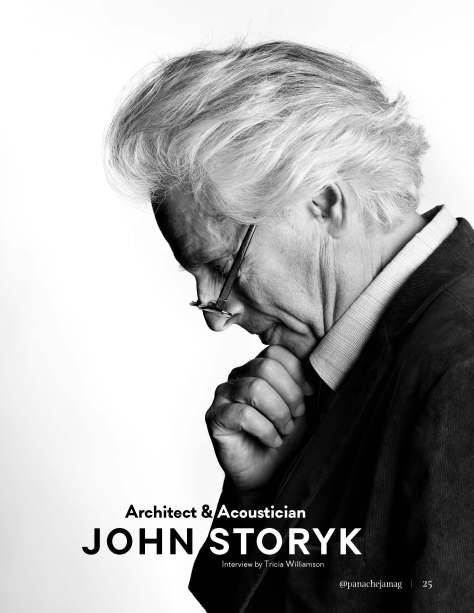 PANACHE: We saw an interview where you shared that you once saw an Ad in the East Village's The Other, "WANTED: Carpenters to work for free on an experimental nightclub." …Why was it important for you in deciding to do that project also request that you also redesign the club (Cerebrum)?
John Storyk: The interview story is correct. Try to imagine being 22 years old in the summer of '68. The events that happened that evening in Greenwich Village were quite spontaneous. The project the ad referenced appeared to be fun; I loved theater, and this cub appeared to be a type of theatrical experience. When I finally saw the design the two owners were proposing it just seemed like I should make some changes to it, which I did – the rest is history as they say.
PANACHE: In what way did that project change your life or open doors for you?
JS: The club opened – and within months it was already very well known. It had made the cover of Life Magazine. Jimi Hendrix went to the club one night and had made the decision to open his own open club by purchasing The Generation — which was located in the basement of the 8th street cinema. The club had been a well-known blues club in the area for the past few years. The irony is that I used to go visit that club a few years earlier to listen to blues artists. I was in a blues band in college as a student at Princeton. Even more ironic is that it was the basement of the cinema designed by one of my all-time architect idols – Fredrick Kiesler. A perfect storm of serendipity striking.
PANACHE: What was it like designing for a legend like Jimi Hendrix?
JS: A bit surreal. I believe Jimi had a few different personalities, but I mostly saw the quiet and almost shy Jimi. Most of the time I spent working on the studio was with his engineer and producer, Eddie Kramer, who became a lifelong friend. Jimi's input was always special. He did not read architectural drawings very well but had a very definite idea of what he wanted the club to feel like. The club eventually became Electric Lady Studios. Jimi worked on emotions, and it was very special to be with him. All of this happened to me before the age of 24 and by the time Electric Lady Studios opened in the summer of 1970, I already had four more studios to design. Career tip: make your first project famous. For me, it certainly changed my life!
PANACHE: What has been key to your success over the years?

JS: This is a tough question. I believe that I was very fortunate to at an early age discover a way to unite "working", meaning earning a living, and my artistic loves. Most days, I wake up and simply do not see a difference between "working" and "not working". This life is one ride – and it has been a very special one that has taken me all around the world, allowing me to meet amazing people. Most of all, it has reinforced my belief in love and art as the most powerful forces in our lives.
PANACHE: In your words, what is WSDG?
JS: Of course this is an acronym for our company – Walters-Storyk Design Group. The 'Walters' is Beth Walters, my wife and partner. But it is more than a company, it is a family. My students have become interns, they have become associates, and are now my partners. We have nearly 60 people in multiple offices and locations worldwide. All of them are passionate about our work and passionate about treating our team and our partners (clients) as family. I would never want this spirit to change.
PANACHE: What do you envision for the future of studio design in the next decade?
JS: Studios will continue to exist. The fact is that there are more studios than ever before. What is happening now and will continue to happen is a changing business model, a changing technology model, and a more democratic spread of studio locations. Basically, all artists will someday have his or her own studios. These are exciting times particularly for studio design, with the arrival of fantastic computer-assisted modeling software and more and more manufacturers entering the prefabricated acoustic treatment business.
PANACHE: What is your approach when it comes to taking a decision to do a project- what are the key elements or steps in that process of designing and building a world-class studio?
JS: Again, this is a tough question. There are lots of factors. We have a somewhat complex "internal rating system" which includes obvious categories such as the potential benefits to the business, but there are also non-business categories we consider such as the PR value, learning coefficient, location, client friendliness, and other factors. We are very fortunate right now – quite busy, but always excited to meet a new client. And we are always eager to take on a new project. Clients become our partners and hopefully our friends.
PANACHE: With thousands of facilities under your belt, can you describe three (3) that stand out to you and why?
JS: My usual answer for this is "..my favorite studio is the one I am working on…" Obviously, it all starts with Electric Lady, on which we must have done something correctly since it in its 50th year is still considered to be one of the world's most prestigious studios. Another of my favorites is Jungle City Studios in New York City which we did for Annie Mincielli. The multi-studio complex for Berklee College of Music, Boston, where I also teach, would certainly also be on this list. Paul Epworth's church Studios in London…… and so on.
PANACHE: 100 years from now what will be the WSDG legacy that stands the test of time?
JS: Hopefully we will still be here with our core beliefs – doing great work – doing honest work – continuing to learn – and continuing to have our family values. During the past three years, Beth and I have distributed over 50% of the company to our team – these are exciting times. It is their turn now.