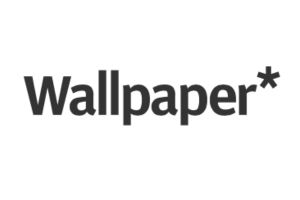 WSDG's Ascentone Studios in Beijing is a cutting-edge recording studio with striking lighting and visuals to match the AV tech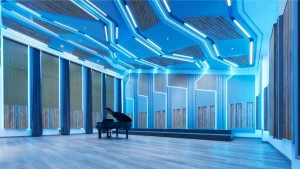 This new recording studio complex in Beijing is one of the latest works to come out of Walters-Storyk Design Group (WSDG), a global architectural studio that specializes in shaping acoustically perfect spaces.
WSDG brings drama and technicality to the recording studio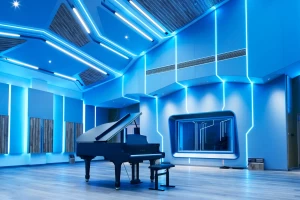 For Ascentone Studios, project managers Leandro Kirjner and Sergio Molho and interior/lighting designer Silvia Molho oversaw a team briefed with a two-floor complex, containing three separate studios yet retaining a holistic, connected feel throughout. The studios are located within a large warehouse building tucked away in a nondescript industrial park just outside of the Chinese capital.
The most dramatic space, Studio A, is a spacious live room with a futuristic feel thanks to the interlocking panels of acoustic materials that clad the lofty space. These panels include fully customizable embedded LED lighting, allowing artists to fine-tune the room for the perfect vibe.
Studios B and C were designed to be more classic and conventional, with modular wall panels that can be moved to adjust the acoustic qualities of the space. All three studios have their own isolation booths for vocals. Spacious control rooms are stuffed with the latest gear and mixing desks, along with a substantial bespoke monitor system.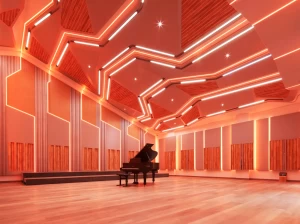 WSDG's acoustic expertise has led to the firm developing new tools for shaping studio spaces and other acoustically demanding applications. Gabriel Hauser, the firm's director of acoustics, and Dirk Noy, who heads up WSDG's European office as partner/director of Applied Science & Engineering in Basel, recently initiated the creation of AcousticLab, an 'environment simulation' room that can be used to shape spaces ahead of construction and explore all the possible parameters of materials, geometry and speakers.
WSDG's portfolio includes major concert halls, places of worship, screening rooms and destination recording studios, as well as the personal studios of artists like Jay-Z, Bruce Springsteen and Harry Connick Jr.  The firm has also collaborated with architects worldwide, including Foster + Partners, Gehry Partners and the late Rafael Viñoly.
(Image credits: Gu HanBo)