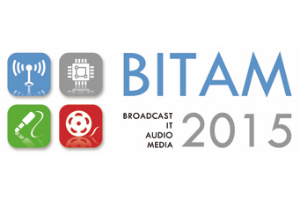 MADRID, SPAIN: WSDG-Walters-Storyk Design Group Co-Principal/Director of New Business Development, Sergio Molho will address the BITAM, Broadcast, IT, Audio & Media Conference at the Centro de Congresos Principe Felipe, on November 25 at 12:15 pm (Madrid time). 
An influential meeting point created to stimulate innovation, knowledge sharing, networking and business, BITAM was designed to create a forum for the revitalization of Broadcast sectors, IT, Media and Audio. And, as an asset for strengthening business and entrepreneurial ties. BITAM is considered an ideal opportunity for international networking, and an exceptional environment to review important technological advances.
Sergio Molho is a founding partner of WSDG Latin America. An audio and video industry professional since 1982, Molho began his career as an engineer, composer and producer for international productions for Sony, Warner Bros. and other major record labels. He is a member of the Audio Engineering Society (AES), the Argentinean Acoustic Chamber (AAC), and a frequent contributor to technical workshops designed to expand the knowledge of acoustics and electro-acoustics in their relationship to architecture, Mr. Molho's BITAM presentation is entitled "Broadcast Stations Design: ESPN & QATAR TV (History of two cities)" – "Diseño de Estaciones de Broadcast ESPN – QATAR TV (Historia de dos ciudades)".