Kosher Sushi? Hold the Shrimp in Surfside
Chef Fernando Chang cooks a mix of Japanese and Peruvian food at the kosher-certified 26 Sushi & Tapas.
By Linda Bladholm – 11/2/2015
The lovechild of Japan and Peru resulted in a fusion known as Nikkei cuisine and can be found at year-old 26 Sushi & Tapas in Surfside.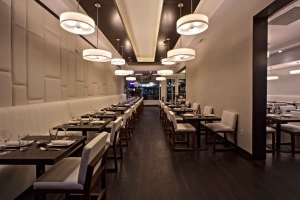 The twist here is that everything is kosher, with the kitchen under the supervision of a Mashgiach. It attracts those who keep kosher, as well those who are just looking for good sushi and other dishes. Robatayaki, known as anticucho in Peru, brings grilled skewers of fish, mushrooms or vegetables marinated in smoky, fruity aji panca sauce and finished in a teriyaki glaze.
The elegant, white-on-white space, designed by architect Tom Telesco for the global Walters-Storyk Design Group, feels organic with good acoustics so one can hear when conversing. Twenty-six equates to the name for god in Hebrew numerology.
Partners are real estate developer Morris Kaplan and chef Fernando Chang. They met when the chef's son, Fernando Jr., was working as a personal chef in the Kaplan home. Morris moved south from Highland Park, New Jersey, eight years ago for warmer weather.
Chef Chang's grandparents came to Peru from Canton, China, and settled in Chiclayo, the capital of the Lambayeque region in northern Peru near the Pacific coast, where he grew up. He had a shoe shop but always enjoyed cooking, learning from his parents.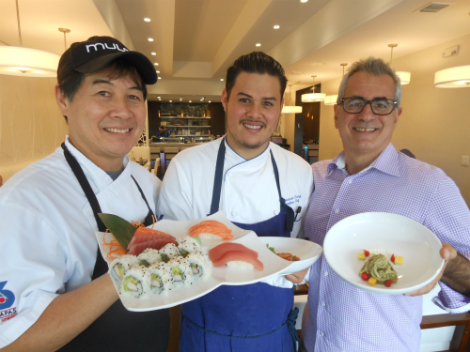 Chang moved his family to Miami 25 years ago and began working in many restaurants and discovered kosher cooking at Thai Treat. Fernando Jr. and his younger sisterValerie (their mother is Peruvian) went into hospitality and are now sous chefs to dad.
The first Japanese ship arrived from Yokohama to the Port of Callao near Lima in 1899, and the immigrants kept their traditional cuisine but over time integrated Peruvian ingredients. Modern chefs mix Peruvian ceviche with Japanese sashimi to create tiraditos (from the word tirar, "to throw").
On the menu here is hamachi tiradito in leche de tigre, the citrus marinade or tiger's milk that cures the fish, served with giant choclo corn and cancha (toasted corn) in aji amarillo sauce.
Other tapas include soba noodles tossed in Peruvian pesto made from spinach, basil, pistachios and walnuts, with bits of mango and sweetie drops, a tiny mild red chile from the Amazon jungle; crunchy butter lettuce wraps with corvina tempura, carrot and red cabbage slaw, cashew and pistachio crumbles and aji amarillo curry aioli; and causitas made from mashed yellow potatoes shaped into small beehives topped in mild, lavender-tinted Kalamata olive aioli, medium-hot aji amarillo aioli and hot rocoto chile aioli.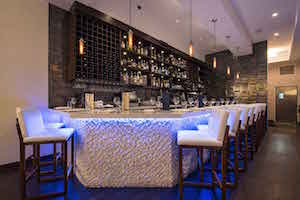 Faux shrimp, crab and scallops are shaped from surimi made from white fish paste tucked into maki rolls like the pink dragon with "shrimp," avocado and hot sauce served with sweet sauce.
Larger plates include sea bass cooked sous vide, served on a banana leaf with coconut curry, cilantro and toasted garlic; and crispy tofu and noodle stir-fry with vegetables, garlic-ginger soy and sesame seeds.
The menu is always evolving, and you might find a special of pan-seared red snapper in apple ponzu with red onions, diced tomatoes and tosaka (red seaweed). It's not traditional, but the blueberry cheesecake makes a fine ending.
Gochisosama deshita! (Bon Appetit!)