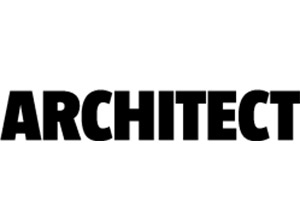 Artists For Peace & Justice Sees School As A Catalyst For Growth
JACMEL, HAITI: Some people might say the last thing Haiti needs is a professional recording school, but those naysayers would be way off track. The malevolent hurricane that devastated the troubled island in September 2008 was followed in 2010 by a cataclysmic earthquake. Despite these catastrophes the Haitian people have endured. With the help of the world community (and a number of closer to home good Samaritans), Haiti is building a bridge back from the abyss. The goal of inspiring her resilient people, and helping to resurrect her fragile economy required a confluence of hard work, determination and… connectivity.
Among this disparate group of committed volunteers stand Academy Award-winning filmmaker and Artists for Peace and Justice (APJ) founder, Paul Haggis, Arcade Fire, documentary filmmaker and APJ CEO, David Belle, Electric Lady Studios, and the Walters-Storyk Design Group.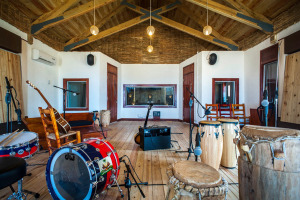 In 2004, David Belle, who lived and worked in Haiti for 18 years, co-founded Féstival Film Jakmel. In 2008, he founded Haiti's only film school, Ciné Institute, to educate and support young local filmmakers and to help build the country's creative economy using a successful model rooted in training, employment and professional support. Belle connected with Paul Haggis, joining the board of Artists For Peace & Justice (APJ) at its inception in 2009, to support communities in Haiti with programs in education, healthcare and dignity.
Following the earthquake in 2010, Haggis and Belle allied with Quincy Jones and Lionel Richie, who had formed the not-for-profit We Are The World Foundation to raise money and consciousness for Haiti's earthquake survivors. Their star-studded 25th anniversary edition of Michael Jackson's We Are The World anthem provided seed funding to expand the professional school in Jacmel, with its new division, Audio Institute: We Are The World School of Music and Audio Engineering. Together, the film and music divisions now form Artists Institute; Haiti's only free technical college for art and technology.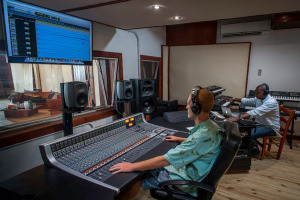 "When we began researching studio designers for the school, we reached out to Arcade Fire co-founders Regine Chassagne and Win Butler," Belle explains. "Regine's roots are in Haiti, and she has been deeply involved in raising funds and consciousness for the island since the hurricane and earthquake. The group was recording at Electric Lady Studios in NYC when we called. They asked studio manager Lee Foster to suggest an architect/acoustician, and he immediately recommended WSDG, and John Storyk."
Built with hurricane (and earthquake) secure construction techniques and materials on the 5 acre site of a former ocean front estate, the Artists Institute campus resembles an island village. The Audio Division's (1432 sq. ft.) Write/Mix/Track Building features four 87 sq. ft. Write/Track, two 149 sq. ft. Mix/Track rooms and 553 sq. ft. support space; A pro audio schoolhouse featuring two (500 sq. ft.) classrooms; and a (1314 sq. ft.) Recording Studio Building with a 579 sq. ft. live room and a 326 sq. ft. Control Room and 409 sq. ft. of support space. Designed to accommodate two simultaneous classes of 35 1st year and 35 2nd year students each, Audio Institute offers hands-on training on contemporary audio production and mixing technology, and classes on entrepreneurship, business, ethics and leadership development, and English.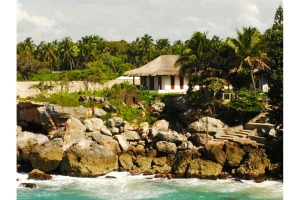 WSDG Project Manager Joshua Morris reports that, "Despite the school's secluded location, it was necessary to close the acoustic spaces using low tech but highly efficient split slab techniques. Engaging doublewide masonry walls and independent concrete ceiling slabs we insured that our isolation goals were achieved by using a build language that could be supported by on-site labor. We carefully detailed our design requirements and techniques to make them comprehensible to the local contractor and construction team. Our sensitivity to locally sourced materials inspired us to completely rethink how we detail our acoustic treatments."
The school's centerpiece is a professional recording studio featuring an SSL AWS 924 Console, Genelec 1037C speakers and Genelec 8040A + 7070A surrounds. Acoustically treated to support a wide range of styles including traditional Haitian Voodoo rhythms blended with rock, pop and blues (known as Razin), the live room takes full advantage of the island setting, and is graced by a 22 ½ ft. high ceiling, a 20 sq. ft. ISO booth, sound lock, storage and machine room. Flooded with natural light from numerous windows, and blessed with breathtaking ocean views, the studio combines inspirational vibes with superb acoustics, and benefits from a clean straightforward, cost-effective WSDG design.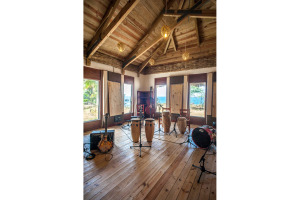 "The apparent simplicity of the studio and live room is misleading," Morris adds. "We performed extensive acoustic modeling to provide the rooms with sophisticated architectural elements that enhance the sound quality and temper reverberation time. We also sent a WSDG team to Haiti to perform the systems integration. This process enabled us to meet our budgetary and aesthetic directives while assuring students and visiting artists of exemplary recording and playback quality. Thanks to the schools isolated location, it was unnecessary to float the control room or invest in costly acoustic treatments," he concludes.
Artists Institute has committed its energies and resources to the development of an innovative full-scholarship, 2-year college devoted to providing talented Haitians with an audio (or film) production education, real jobs, and professional support designed to help graduates break the cycle of poverty and grow Haiti's creative industries. Additionally, the Audio Institute: We Are The World School of Music and Audio Engineering studio is available to local (and international) recording artists and guest engineers seeking a professional recording facility in an inspirational, off the beaten track environment.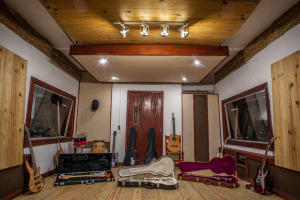 "As an educator and guest lecturer at the Berklee College of Music and other leading universities, I'm keenly aware of the needs of both students and instructors," John Storyk remarked. "Audio Institute reflects lessons we've learned in maximizing student line-of-site, in future proofing technology selection and a number of subtle techniques that will benefit everyone involved with APJ. We hope the school launches a number of successful careers, and that the music its graduates make inspires understanding and compassion for this wonderful island, and helps to put them on a more equal footing with the rest of the world."