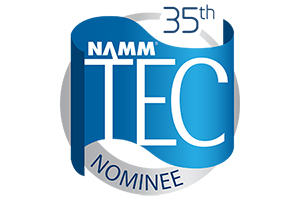 Stitcher Podcast Studios, NYC & Zhejiang Conservatory of Music Hangzhou, China
NEW YORK: WSDG Walters-Storyk Design Group, Partner/Director of Business Development, Sergio Molho reports that two recently completed projects are nominated for the 2020 NAMM TEC Awards Outstanding Creative Achievement Award in the Studio Design Project Category. "We are especially pleased to have both Stitcher Studios and the Zhejiang Conservatory Of Music (ZJCM) nominated because they so beautifully illustrate the diversity of our client base," Molho said.
One of the earliest, most creative and most prolific proponents of the burgeoning Podcast production field, Stitcher's 2000 sq. ft. studio is a key element of the firm's 20,000 sq. ft. headquarters overlooking Manhattan's Bryant Park. Stitcher provides a 360-degree suite of production, distribution and monetization services to podcast creators, artists, entertainers and thought leaders.
ZJCM, the Zhejiang Conservatory Of Music in Hangzhou, China, is one of the largest and most ambitious projects in recent WSDG history.  Set on a 100-acre campus within an ultra-modern 8000 sq. ft. two story building, ZJCM's 3200 sq. ft. live recording studio can host sessions of 100+ member orchestras.  Its' 26 ft. high ceiling is distinguished by an iconic oval ceiling cloud which serves as both an acoustical treatment and a unique lighting element.  In addition to ZJCM's primary role of instructing next-generation recording engineers, producers and artists, the school's live room is also used to record feature film scores and professional concert performances while providing students with genuine real-world production experience.
"The fact that these two studio projects are so dissimilar in size and purpose makes our NAMM TEC Award Nominations all the sweeter," Molho says.  "It speaks not only to the diversity of these particular projects, but to the incredible breadth of our industry itself.  We are living in extraordinary times and we work in an amazing field.  We congratulate our fellow nominees, and are proud to participate in this wonderful event with them."
Ballots for the online voting period (Nov. 20 – Dec 31, 2019) will be distributed online.  The 35th Annual 2020 NAMM Technical Excellence & Creativity Awards will be presented on Saturday evening, January 18, 2020 in the Pacific Ballroom at the Hilton Anaheim Hotel.
BEST STUDIO DESIGN PROJECT:
Zhejiang Conservatory of Music (ZJCM) – Hangzhou, China:
Stitcher Studios – New York City, USA: