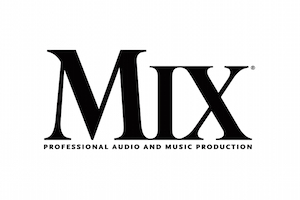 Designers Showcase Their Hottest Studios of the Year
Every June, Mix surveys leading studio designers and acousticians and asks for a look at their latest and greatest projects. This year's "Class" includes personal studios and commercial rooms in major and smaller U.S. markets. Some have spaces for tracking or maybe a booth; some are for mixing. There's even a stellar facility out of Belgium. Here, then, are some of the world's best new studios for 2019. For more, visit mixonline.com.
2 WSDG-designed studios have been included this year's MIX Class of 2019. Keep reading to know more about them!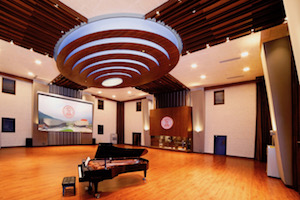 Zhejiang Conservatory of Music, Hangzhou, East China
Studio Designer: WSDG – Walters-Storyk Design Group
In 2015, the Zhejiang Conservatory of Music (ZJCM) opened a 100-acre campus, offering nine concert halls, 102 rehearsal halls, 842 practice rooms, six studios and a 60.1 multitrack laboratory. In 2017, ZJCM recognized the need for a world-class music production studio. China-based pro audio distributor DMT recommended WSDG to design and install the new studio. Key elements of the complex are a 650-square-foot control room featuring an SSL Duality console and PCM monitoring and a 3200-square-foot live room capable of hosting a 100-member orchestra.
WSDG director of design Renato Cipriano points to the huge oval ceiling cloud/lighting element as the studios' crowning achievement. Floating over the live room from a height of 26 feet, it provides a strikingly effective visual, with its mood lighting and acoustic treatments.
"The cloud is fitted with a telescoping option that establishes multiple diffusion layers and diverse acoustics," Cipriano says. "It contributes to the diffusive sound field and enhances the room's reverberation characteristics. Beyond its acoustic properties, it functions as an LED fixture to expand the aesthetic lighting options. We also hung 26-foot-long absorbent curtains from silent, motorized tracks on each of the live room's walls. Deploying these curtains can provide as much as a 50 percent modification of the room's diffusion and reflection properties. We really pushed the envelope for ZJCM; this complex represents an interesting example of acoustic design potential."
---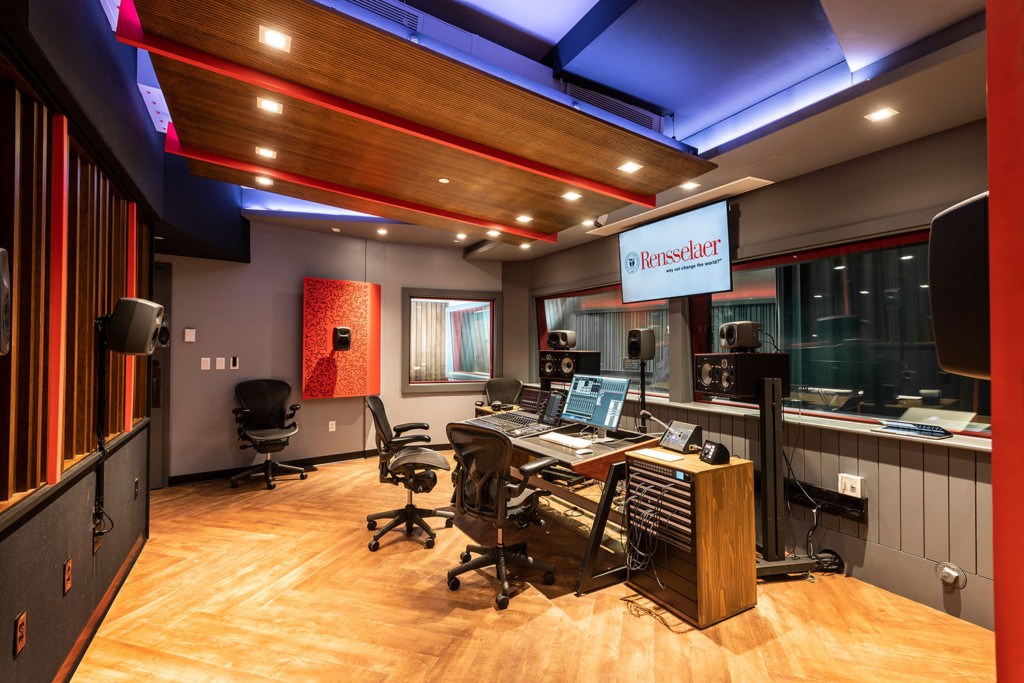 Rensselaer Polytechnic Institute, Troy, NY
Studio Designer: WSDG – Walters-Storyk Design Group
Rensselaer Polytechnic Institute in Troy, N.Y., is the world's oldest technological research university. The Institute's new WSDG-designed, fully immersive audio/video/3D production, mixing/editing complex was conceived to support RPI's mandate of providing degree programs in engineering, computing, business management and information technology for next-generation technologists.
WSDG Partner/COO/project manager Joshua Morris reports that the assignment was focused on the renovation of the existing 1,700-square-foot space—specifically, the design, construction supervision and systems integration of a 1,000-square-foot audio recording/production studio, a cutting edge 300-square-foot audio control room, a 100-square-foot iso lab, 160-square-foot video control room and a 90-square-foot AV lab, with a 16-foot ceiling.
A WSDG priority focused on the facility's variable acoustic properties, to compensate for the "deader" tracking environment required by immersive production techniques. Studio gear includes Avid Pro Tools S6, an S6 M40 modular control surface, and Genelec 7050B studio sub, 8000-422B wall mounts and 8030C 5-inch powered studio monitors.
---