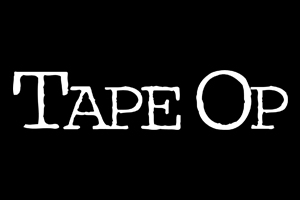 BY LARRY CRANE | PHOTOGRAPHS BY LARRY CRANE
A young intern fresh out of Full Sail University gets a big break (and a nickname) from Missy Elliott, works alongside producers and engineers like Timbaland, Jimmy Douglass [Tape Op #130], Demacio Castellon, and Polow da Don, and ends up mixing hits for Keri Hilson, Britney Spears, Keyshia Cole, Meek Mill, M.I.A., Usher, Wiz Khalifa, and Madonna.
---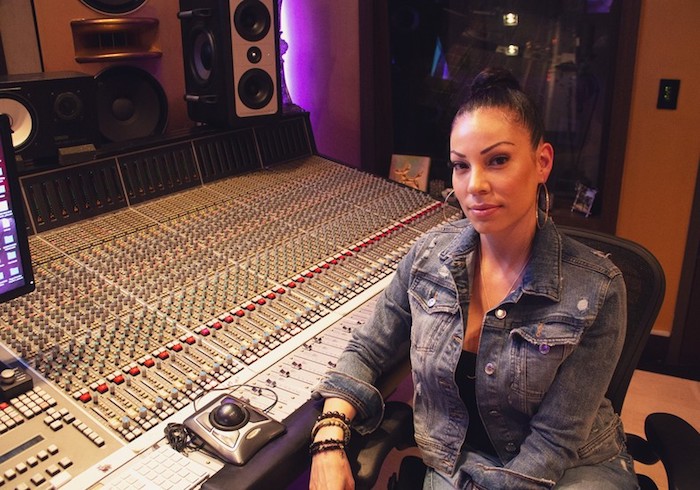 You grew up here?
Yes. Born and raised in Miami.
What was it that got you curious about recording?
Growing up, I'd always been a lover of music. I think I listened to records a little differently than most people. I was more interested in the depths of it than just the surface. Engineering wasn't anything that I knew about until after high school. In high school, I started hanging around with a group of kids who were aspiring rappers that wanted to be artists. I naturally took an approach to making beats.
What were you using?
I was using Cakewalk. Or, rather, I was attempting to! After high school, I wanted to do music. I was told by all the colleges I was applying to that I couldn't apply to a music program without playing an instrument or having a background in music theory. I went into some basic courses for business administration. Whatever I could do to make my parents happy, right? A couple of years after high school my brother told me about a school in Orlando and that's how I was introduced to Full Sail University. I took the drive up from Miami, visited, and was able to walk into a real studio setting. That's where everything made the connection for me. "I think I could do this." I wanted to go after it. I remember the first time looking at a console; I was intrigued by all the buttons. I think a lot of people walk in, see a console, and they're overwhelmed. I left after that visit, saved money for about six months, and moved.
You graduated at the top of your class?
Yeah. I really submerged myself. I went into school like, "This is a dynamic microphone. This is a condenser." I was at the basic level; like ground zero. A lot of the kids in my class were either musicians or had already started a band. I remember looking around in class and feeling nervous. People would look so comfortable, like, "Oh, I already know this." They just had to get through that month of the lecture. But, for me, I had to make the connections and really understand what was being said. I was going to school at odd times; I didn't have a steady schedule. I'd have a four hour lecture, backed up with a four hour lab, then a four hour break, and then another four hour lab at 1 a.m. I graduated with the highest honor at the time, the Advanced Recording Engineer Award, with perfect attendance.
You were dedicated.
Very dedicated. To me, it was such a blessing to find something I really wanted to do. In the years prior, I was going to college and I wasn't doing it for me; I was doing it more for the happiness of my parents. Finally, I found something that connected. I wanted to learn it.
Were your parents worried about you going into that field initially?
Yeah, they were very worried about it. It wasn't something that they understood. My mom is from Colombia, and my dad is from Nicaragua. They came to this country, and I'm the first generation U.S. citizen. For them, it was about building the American dream and following the traditional routes. You go to school, you graduate, you go to college, and you get a job. Very traditional. I was like, "I want to go to college, but it's for this kind of a career." They asked, "Where do you get jobs?" I said, "I can get an internship, but I might not get paid." They said, "Wait, you've got to go to college and pay this amount of money for a possible unpaid job?" In the end, I think they saw the light in my eyes and the excitement in my voice, and they said, "You know what, we'll back you up and support you." I packed up my stuff, and they were with me on the drive up to Orlando to move into my place. I go back to Full Sail a lot, multiple times a year. I go around to other schools, and I hear, "My parents were not supporting me in this." It's not for everyone. For me, I had to win this.
Right. You went to intern at The Hit Factory [Criteria Miami]?
Yeah. A few weeks after graduation, I got my internship there.
That's the most prestigious, oldest studio in the area here.
I knew that was where I wanted to go when I started at Full Sail. I started making contact with Trevor [Fletcher, manager] early on. I hoped that I'd be at the top of the pile of resumes. I was interning for a while, but I got my first assisting engineer gig two months in. I was doing general assisting, and then Trevor needed somebody to come into assist because he didn't have anyone else and the client was coming in quickly. He asked me if I was ready, and I said, "Yeah!" Whether I was or not, I was saying, "Yes." It ended up being Missy Elliott. It was that opportunity. She took a liking to me being a part of her creative world, and I started working all the sessions with her after that.
She requested you?
Yeah, she would request me. Everything unfolded from there; meeting Tim [Mosley, aka Timbaland], meeting Jimmy [Douglass], and meeting my partner Danja [Nate Hills]. All from that one "yes." Unbelievable.
Weren't you also getting up to speed on Pro Tools?
Going to Full Sail, they introduce you to the elements and all of that, but back then [Pro Tools] didn't have an LE version. I couldn't afford Pro Tools at the time, and I couldn't learn it at home. Hit Factory would allow practice time when there weren't sessions booked, but practice time was given to assistant engineers, not to general assistants. There was seniority. When I was given the first opportunity to record Missy, it was a disaster. I wasn't completely in the dark, but I wasn't moving fast enough. If she needed me to fly in a hook, it wasn't like [instant]. Not knowing the program well enough to go into Grid mode, or to put in one bar, or being in Slip mode and trying to fly something in. I'd play it back; and, oh my god, it was horrible!
She might have been used to working with people who were hotshots.
Oh, yeah; 1,000 percent. She had a designated engineer. That day he happened to be late, and she didn't want to wait. She was like, "You can come in and do it."
But after this she recommended you to Timbaland?
Well, it wasn't a recommendation; she mentioned me. Tim came down to work on the Under Construction album. I wanted to work with Tim; he was someone that I loved growing up. But because she had her room, and Tim had his own room, there was an assistant working there by the name of Demo [Demacio Castellon], and he was brought in to work on the Timbaland session. But I would help out in the room. Tim would see me hooking everything up and he'd joke around, like, "You know what you're doing?" I would say, "Of course I know what I'm doing." I'd be in the room and help out when there would be bigger set ups. It was through that that Tim was able to see my work ethic, and Jimmy was able to see it as well. I would work between both rooms at that point. Sometimes, being the assistant in the room, there's not a lot to do, especially when things are already flowing. I always tried to make myself available for anything.
How in the world does that go from there to mixing hit singles?
Around 2004, Tim signed Keri Hilson, a new artist out of Atlanta. It was a joint venture between him and Polow da Don [Jamal Fincher Jones]. Keri ended up spending a lot of time in Miami. Danja had already been in the picture, working under Tim as his protege. With a new artist there's a lot of development that happens. I wouldn't say Tim wasn't paying attention, but there was a lot that Tim had going on with what he had to work on. A lot of times I was the assistant in Timbaland's room and Demo was the engineer. It was like a flip-flop between Jimmy and Demo. Then there's this young artist, Keri, hanging out. Danja, myself, and Keri started working together. Tim would not show up to the studio until much later in the evening.
You were waiting around?
Yeah, and we took advantage of that time. Keri was a writer, so it was easy to get records written. We had Danja, so he would make tracks, she would write, and I would record. Obviously, during that recording process you've got to put down a bit of a rough mix. It was dozens and dozens of songs that we recorded, and we'd present them to Tim. Tim started to say, "Wow, these sound really good. You're doing some really great work here." As we started to get into her project, and Tim started to be more involved, he said to me, "You should mix Keri's album. You do her blends so amazing." Polow was saying the same thing. Then Danja started getting projects on his own. So, the first mix I had out there was in an Usher movie called In the Mix. It was a soundtrack record [Usher Presents In The Mix], and it was [a Keri Hilson track] called "Hands & Feet." I remember being at Hit Factory in Studio E, and we got a call, "Usher wants to talk to the engineer." He had mix notes. I was like, "Ah!" But that was my first mix that was really out there.
That's an auspicious start!
Yeah. It became word-of-mouth. Keri ended up being a very successful artist. I did her first album [In a Perfect World…]. There were a lot of albums at that time that we were all working on together. The [Timbaland] Shock Value album, and a Nelly Furtado album [Loose], which I had a hand in some of the mixes. I didn't work on the Justin Timberlake album [FutureSex/LoveSounds], but because of my association with Danja and Tim a lot of people have thought I was associated with that album. That was my mentor, Jimmy Douglass. That's his brilliance! Being a mix assistant for so many different sessions with Jimmy, I learned a lot.
Do you think you learned how to balance low end, as well as keeping the vocal focus in front by watching people work?
Even listening to records, I was able to familiarize myself with where things should sit and feel. Engineering for me became such emotional work. I have to feel it. I have to be able to inspire, to get that to make sense and have people feel it the same way.
How do you explain what you do that brings out the emotion in a mix?
It's done in so many different ways. A lot of it can be choices in value, on what instrumentation is sitting in the background. A lot of it has to do with effects, and types of effects. How I address the drums. There are so many different things that go into it. But, at the end of the day, it's how you paint the entire picture. I think it's about listening to the record, listening to the song and music, figuring out what story [the artist] is telling, and then painting that picture through sound.
Like where the song could take the listener?
Right. Exactly.
On some of your work I hear some really interesting ways to make the listener perceive heaviness of low end, yet you're not simply mixing in a ton of low frequencies. What are some of the tricks you use?
I'm a big fan of distortion and saturation, and a fan of less is more. I don't really try to overdrive any EQ or things like that, unless it really needs it. But to me, for the most part, it's subtleness. I think it's very important not to monitor on just one set of speakers, as well as being able to walk out of the studio and listen to mixes outside of the studio. Behind us I have my iLouds [IK Multimedia "Micro Monitor"]. I love my iLouds. Today a lot of music is consumed on headphones – especially in the urban culture. It's being able to print a pass, throw on headphones, and figure out, "What does this sound like?" With a lot of this music you know the listener is consuming it in that way. It's understanding who your audience is.
Do songs you've mixed sound different to you when you hear them on the radio?
Yeah. You know, radio obviously compresses it so much. A lot of times what really disappears is the low end. It's gone. I hear it on so many other peoples' mixes, not just my own. That's the way it's all compressed when it goes to the airwaves. I really try. You know, after we mix, there's another step that happens after us.
Mastering.
Yeah. There's a lot that happens after the mix. I try to put the best mix forward, but sometimes I get beat by the 30:1 ratio.
Are you still working with your console on most of the mixing? How far in the box is most of your work these days?
I'm a little further along in the box than I used to be. Every once in a while I'll throw things out across the faders. I let the song tell it. Sometimes I say to myself, "I'll start in the box," and then I'm not getting what I need so I'll start to break it out. I don't really break it out as individually as I used to. It's more sub-mixes, with maybe some drums and percussion. I'll break up drums for the basic kick/snare/hat, percussion on another, and keys. It might be a sub-mix of anywhere from 12 to 15 channels, more or less. It depends.
Do you print elements or stems back in so you've got a recallability?
Oh, yeah. My stems are printed through the console.
So, you bring it back in and work from there?
That I definitely do.
And there's a decent amount of outboard gear here.
Oh, yeah. I still use my outboard gear.
I know you love the Tube-Tech CL1B compressor.
Yeah. Can you tell? I forgot why I ended up with five in here. I only had three. Something happened! In our B Room, they ended up downsizing their rack. The B Room is Danja's room, and most of the recording is done in there. If I ever need to mix in there, we have a rolling rack and we can figure it out. His room has been downsized for what they need only. They do most of the recording in there. Once everything is done in B, it comes to the A Room.
There must be a story behind this path! In 2014, she and producer Nate "Danja" Hills opened Dream Asylum Studios and N.A.R.S. Records in the Miami area, with studios for each of them to create and mix in. That's where we met up on a typically warm Florida day to talk about her incredible career and life.