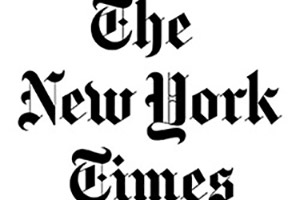 You May Not Know Jack Antonoff. But You Probably Love His Music.
The first time Jack Antonoff hit it big — more than a decade after he began touring as a teenager in crowded vans that often arrived at empty rooms — he walked away.
The band Fun. had started as a side project for Mr. Antonoff, a chronic multitasker. But by 2012, after placements in "Glee" and a Super Bowl ad sent the group's song "We Are Young" into the stratosphere, Mr. Antonoff found himself experiencing "truly inhumane, goofy, 'Almost Famous'-level" success, he recalled. Suddenly a platinum-selling act, Fun. toured arenas around the world and won Grammys for song of the year and best new artist. Then the band declined to make another album.
"I remember immediately — immediately — feeling like, 'I don't want to play "We Are Young" when I'm 35,'" Mr. Antonoff said. "'I don't want to be defined by this.'"
But his aversion wasn't to stardom, or even the burden of a megahit, which he still openly chases as a go-to producer and songwriter for those on the pop A-list, like Lorde and Taylor Swift. The problem was that Fun. was merely something Mr. Antonoff was a part of, he explained recently at his home studio in Brooklyn; he needed the music he made to be a part of him.
Born of that borderline self
-sabotaging earnestness was the band Bleachers, an intensely personal project that Mr. Antonoff, 33, has put at the center of his life ever since; "Gone Now," out Friday, June 2, via RCA, is his second album under that moniker, and it furthers his maximalist approach to anthemic, life-affirming pop-rock about loss and just how taxing it is to be a decent human being.
At the same time, instead of becoming a more insular musician, Mr. Antonoff has broken out as one of the most in-demand architects of modern hits — an insider's outsider who has used his punk essence and idiosyncratic approach to forge a distinct lane of his own. He proved himself with smashes like Sara Bareilles's "Brave" and Ms. Swift's "Out of the Woods" and "I Don't Wanna Live Forever" (with Zayn Malik), and helped to usher in a strain of '80s pop revivalism. In the process, he has gone from industry curio to known quantity and artist's favorite, especially among female musicians.
"Sometimes he sits at the piano and we both just start ad-libbing and the song seems to create itself," Ms. Swift said in an email, citing Mr. Antonoff's musical versatility. "His excitement and exuberance about writing songs is contagious." She added: "He's an absolute joy. That's why everyone loves him. I personally wouldn't trust someone who didn't."
On top of Bleachers comes the release next month of Lorde's "Melodrama,"for which Mr. Antonoff served as a producer, along with the singer, moving toward his goal of collaborating on complete albums instead of individual tracks. Jumping easily between worlds, he is working on new music by the cult singer and guitarist St. Vincent, and logging recording time with Pink, Carly Rae Jepsen and the Killers.
"It's weird to know you're in a moment," Mr. Antonoff said. "It's not as black and white as just success or charts — you feel it when you're in the studio."
For Mr. Antonoff, that typically means a small room crammed with synthesizers and adorned with magazine clippings ("The Women of Twin Peaks") in the Brooklyn Heights apartment he shares with his girlfriend, the writer, director and actress Lena Dunham. While much of the hit-making industry is based in Los Angeles, Mr. Antonoff, who also has a home there, prefers to keep a remove from the pop machine when creating.
"The heart and soul of pop is newness, excitement, innovation," said Mr. Antonoff, a spirited, zealous talker who rarely stops fidgeting. "The music industry is built on chasing that ambulance — 'some