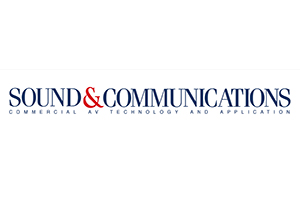 By Jim Stokes
Team planning creates futureproof systems for First Lutheran Church's campus services and streaming.
The Celebration Center is an architectural marvel, perfectly capturing a contemporary worship atmosphere. Sound and video are delicately balanced to maintain sightlines.
"Ein feste Burg ist unser Gott" proclaims perhaps the Lutherans' most well-known hymn, as composed by Martin Luther in the mid-1600s during times of change (to put it mildly). Founded in September 1917, First Lutheran Church in Fargo ND remains a mighty fortress—both an enduring island of community support and a spiritual training center. In 2017, a successful fundraising drive empowered Senior Pastor Corey Bjertness and his fellow pastors to undertake a substantial facility renovation and expansion, including structural and audiovisual changes at First Lutheran Church and its new Celebration Center. A Fargo-based architecture firm, wild | crg, was engaged to design, develop and oversee the ambitious project, which encompassed renovation and new construction. The existing First Lutheran Church is 50'x125′ (WxL), and the new Celebration Center is 98'x88′ (WxD). The Celebration Center is a double-height performance hall with 706 seats; there are 534 on the ground-floor level and 172 in the balcony, with a sloping, acoustically treated ceiling. The new Celebration Center and its stage were designed to provide an outstanding setting for prayer, sermons, religious services, choir performances and other musical elements. First Lutheran held a groundbreaking ceremony in June 2018, and the project was completed in time to celebrate Christmas ceremonies at the end of 2019. Highland NY-based architectural/acoustical design firm Walters-Storyk Design Group (WSDG), although tasked with consulting on acoustic elements throughout the campus, was primarily focused on the Celebration Center. Project leaders engaged WSDG to develop a comprehensive acoustic-development and sound-isolation program for the new space. The firm was also called upon to consult on comprehensive acoustic elements throughout the sprawling, 96,000-square-foot addition. Thanks are extended to Howard Sherman, of Howard Sherman PR (New York NY), for his outstanding efforts in providing photographs and coordinating interviews. There were many talents required to make this a successful project, and there were many interviews required for a successful article.
Expansion Program
Two-thirds of the original First Lutheran Church campus had been earmarked for substantial remodeling and upgrades as part of the expansion program. Ground-up construction was planned for the sanctuary, chapel, gathering/education building, offices, choir, nursery/gym and the Celebration Center/ performance center. This article will focus the vast majority of its attention on the Celebration Center, but it'll also touch on AV elements elsewhere on campus. Significant AV features include house speaker clusters, distributed audio, sound mixing, digital projection, video cameras, and switching and streaming campus-wide (as well as over broadcast TV). Tricorne Audio, Inc., was the AV integrator. For perspective on the sound elements, we interviewed Dallas Anderson, Lead Audio Designer, who manages the Bismarck ND office. To learn about video systems, we interviewed Phil Nelson of the design and sales team at the Fargo office. "It was a partnership between Phil and me," Anderson explained. "We each took our respective areas, but [we] had good communication. The Parish Administrator, Daniel Damico, was integral in properly relaying the needs of the church to us and making sure that what we were providing was addressing the needs of the church." Speaking to the project timeline, he added, "Time was short. We were brought into the project after the shell was already up and the building was enclosed. It was fast and quick. But we got it done!" Although the Celebration Center turned out to be an unqualified success, it did have some challenges along the way. According to Anderson, "One of the most notable challenges was the issue of the church wanting to use line arrays. [However,] the physical building and projection layout were not accommodating." Nevertheless, the church and the design team worked on the assumption that stereo line arrays would be the best choice based on their popular use for concerts and in performing-arts centers. "They are the hot item of the past decade," Anderson affirmed.