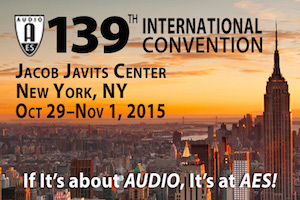 NEW YORK: WSDG'S hectic AES Convention schedule was preceded by a week of educational and business planning sessions at the firms' Highland, New York headquarters. Partners and international representatives from Europe, Latin America, China, Mexico and the United Stages held deep, long-term planning seminars. The team also shared details on advanced technologies and techniques now available to empower WSDG to further enrich its architectural and acoustic design client services.
All four educational presentations developed by WSDG for the four day AES Convention were well attended (and well received). Chaired by WSDG co-founder John Storyk, Streaming Facilities… Broadcast Scaled to Internet Needs & Feeds featured three diverse streaming content producers and, a leading stadium streaming facility designer. Their perspectives on acoustic and technical needs and solutions provided a unique assessment of today's streaming field. Low Frequency Behavior in Small High Accuracy Listening Environments focused on observations, design approaches and real world applications for critical listening and acoustics in small rooms – the most common environment in today's studio universe. A prominent panel of physicists, inventors, and engineer/producers shared their knowledgeable findings with a large and appreciative audience. Low Frequency Behavior of Small Rooms, a paper specially prepared by Basel, Switzerland-based partner Dirk Noy, served as a valuable companion piece to the panel.

The largest turnout for a WSDG event was Saturday's 90-minute Project Studio In The Commercial World panel created for the popular AES Project Studio Expo.   Studio Owners, architects and designers presented five current examples of the disparate nature of today's Project Studio. Ranging in size from a small 200 sq. ft. voiceover studio to a 4000 sq. ft. Miami "Showplace," (and 2016 TEC Award Nominee), the well illustrated case histories cast a bright spotlight on a production facility landscape as varied and creative as the musical idioms produced within their well-tuned walls.
Beth Walters, Sergio Molho, Nancy Flannery, and the other WSDG team members on duty at our AES Booth report a constant stream of current, past and potential clients, close and new friends and editors from many of the leading industry trade journals.   Social catch up and serious business conversations prevailed throughout the Convention, and a grand time was had by all.