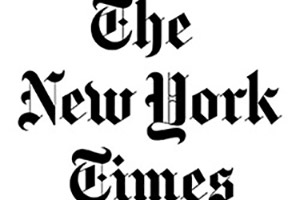 Behind Brooklyn Walls: A World of Sound
Some crazy things have been happening behind the walled courtyard on the corner of Dean and Smith Streets in Boerum Hill, Brooklyn: The sounds of a Liberian tuk-tuk pass by, a children's swing creaks, Lizzie Borden insists she didn't kill her parents, and Meryl Streep has been coming and going for nine days.
"You see this private little gate that looks so mysterious and you don't know what's behind it," said Darcy Dennett, a producer and director who has been putting finishing touches on a television show behind the big wall at Blue Table Post, a new postproduction facility.
Though one of its six state-of-the-art rooms is still not finished, it has been up and running since October, a place to piece together television documentaries and feature films.
Its first project was "We Will Rise," a CNN documentary about educating girls in Morocco and Liberia (cue the tuk-tuk sounds). Participants include Michelle Obama and Ms. Streep, who was on hand to do some recording but wound up helping the team rewrite much of the script at the last minute.
Editing is currently being done on the new film about Lizzie Borden, which features Chloë Sevigny and Kristen Stewart. And Ms. Dennett, along with her production coordinator, Francis Poon, and Blue Table's sound designer, Rich Cutler, have been working on the final sound mix (birds tweeting, a creaking swing) for an episode of "This Is Life With Lisa Ling," on CNN.
Blue Table is a result of six years of planning and dreaming by Oliver Lief, a three-time Emmy Award-winning film editor. Mr. Lief lives with his family on the top three floors of the five-story building that houses the facility. The architectural/acoustic consultants, WSDG — Walters-Storyk Design Group, the talent behind Jimi Hendrix's Electric Lady Studios and Jazz at Lincoln Center's Frederick P. Rose Hall and Dizzy's Club Coca-Cola — have been building for three years, transforming the first two floors of Mr. Lief's building into a full-service postproduction center.
On the bottom floor, workers hand-excavated a space five and a half feet below ground, which helps keep street sounds out, creating "acoustic isolation," in Mr. Lief's terms. While digging, the construction crew came upon a cannonball dating from the Battle of Brooklyn, which Mr. Lief intends to display in a special case.
Each studio, whether specially designed for editing, sound mixing or color grading, is a floating room-built-within-a-room. "They create space and gaps around each room so that the vibrations don't carry," Mr. Lief explained. Each is also painted a certain shade — "15 percent gray" — with matching gray curtains on the windows, so that the eye is not influenced by the colors around it when doing color grading on a project. Every room has temperature controls and computer-activated lighting.
Two of the rooms, the 3-D Dolby Atmos Mix Room and the vocal booth, were built with no right angles (the floors and ceilings are slightly slanted) to keep sound from bouncing around; dark synthetic fabric covers the fiberglass-insulated walls. The last room, which may be completed this month, still needs to be furnished and hooked up to the central machine room, which stores computers, audio equipment, network switches, and drives containing audio and video files.
But the high-tech designs and equipment are not the only thing drawing producers, who have been swarming over from Manhattan to check out the new studio. When you walk in, a fireplace, oil paintings and midcentury modern furniture, including a very comfortable couch, are