The American Institute of Architects (AIA) has selected ten recipients for the 2015 Housing Awards. The AIA's Housing Awards program, now in its 15th year, was established to recognize the best in housing design and promote the importance of good housing as a necessity of life.
The jury recognized projects in four award categories: One/Two Family Custom Housing, One/Two Family Production Housing (none selected this year), Multifamily Housing and Special Housing. The descriptions below give a brief summary of the projects.
Specialized Housing
The Special Housing award recognizes outstanding design of housing that meets the unique needs of other specialized housing types such as single room occupancy residences (SROs), independent living for the disabled, residential rehabilitation programs, domestic violence shelters, and other special housing.
160 Massachusetts Avenue Tower, Berklee College of Music |
Notes of Interest
This 16-story mixed-use residence hall with a prominent 40-foot high performance/dining space overlooks a bustling urban streetscape. While this college is probably he foremost institution for contemporary music education in the country, it has had, until recently, a relatively low profile within Boston, as its facilities have historically been housed in a series of older buildings scattered across many city blocks. This is the College's first purpose-built, free-standing building. It is intended to create a center of gravity for the campus and a strong identity for the school within the city.  With it, the College is able to house the entire freshman class on campus for the first time.
The centerpiece of the residence hall is, as summarized by the College's president, "a performance space that can double as a dining hall by day." The space is centered on a stage wrapped on three sides by a balcony – like a concert hall or theater. Because the stage is located directly behind the 40-foot glass wall, musicians are highly visible to the city – showcasing the deep talent and energy of the school's students.
Additional Credits
Structural Engineer:

LeMessurier Consultants

MEP/FP/IT/AV Engineer:

Rist-Frost-Shumway Engineering

Geotechnical Engineer:

Haley & Aldrich

Civil Engineer:

Nitsch Engineering

Landscape Architect:

Landworks Studio Inc.

Lighting Designer: Lam Partners, Inc.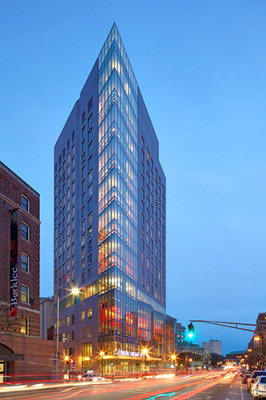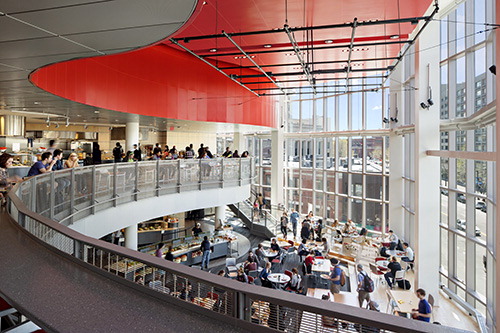 Photo Credit
© Bruce T. Martin Photography

© Robert Benson Photgraphy
For more information visit the AIA website on this news