As the culmination of a nearly 20-year-long odyssey, the Lower East Side Girls Club has added a new component to its year-old Center for Community.  A classic Airstream Trailer (circa 1958) has been re-purposed as a teaching, recording, and broadcast production studio for LESGC's WGRL Internet Radio Station and Recording Arts Program.  Prominently displayed in a second story window in LESGC's recently completed $20 million sustainably-built 12 story building at 101 Avenue D, the studio was designed and configured by Walters Storyk Design Group cofounder/architect/ acoustician John Storyk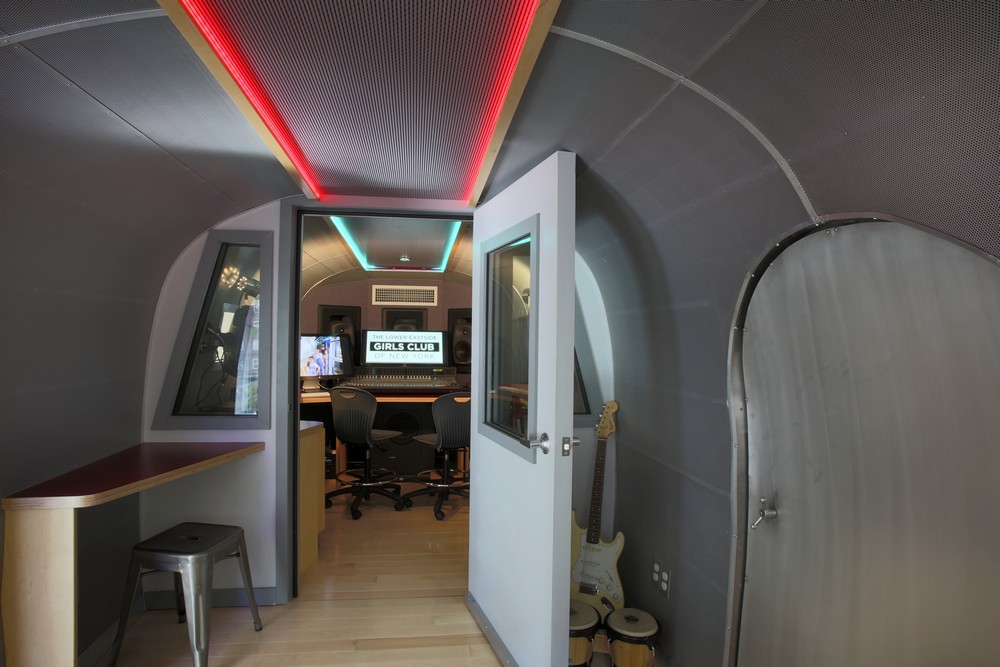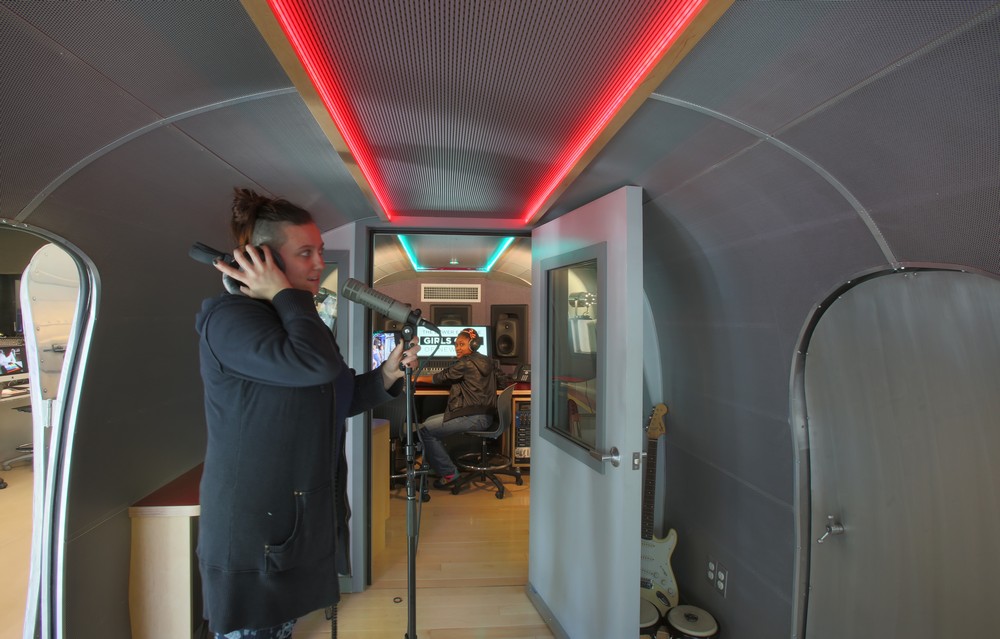 The Airstream recording studio joins an eclectic assemblage of innovative LESGC educational and career training options for low-income teens and families. Spread across three floors and 30,000 sq. ft., these classes range from a digital photography/computer graphics /3D-printing lab, to hands-on BioBus labs, small business training and incubator space (commercial kitchen, bakery, gift shop, cafe) and, a 64-seat planetarium.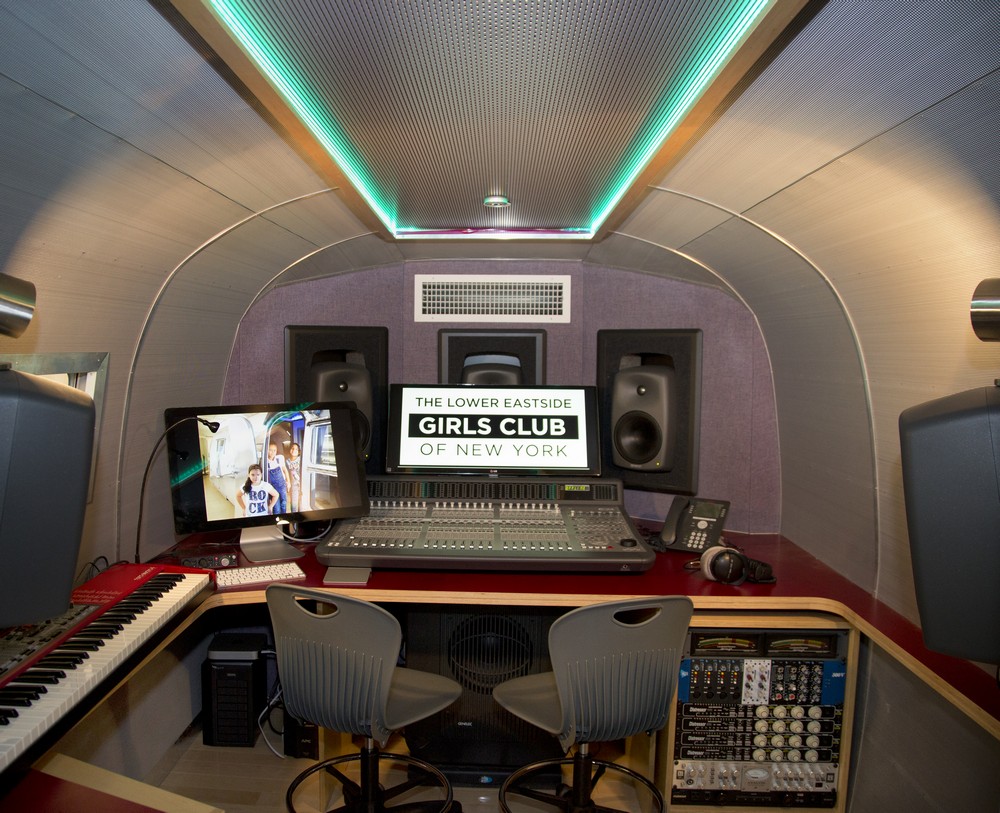 The recording studio was a pet project of Dave Pentecost, a career television editor and musician; his wife Lyn Pentecost co-founded the Lower Eastside Girls Club in 1996. In 2004, the Pentecost's fell in love with an iconic 1958 Airstream trailer, and purchased it to park besides their Adirondacks cabin, in upstate New York. "When the LESGC  building became a reality we felt our Airstream could serve a better purpose in the community as a sound studio, and we brought it to Manhattan," he says. "I'd met studio designer John Storyk years earlier, reconnected with him in 2010, and invited him to contribute his skills to retrofitting the Airstream as a recording studio."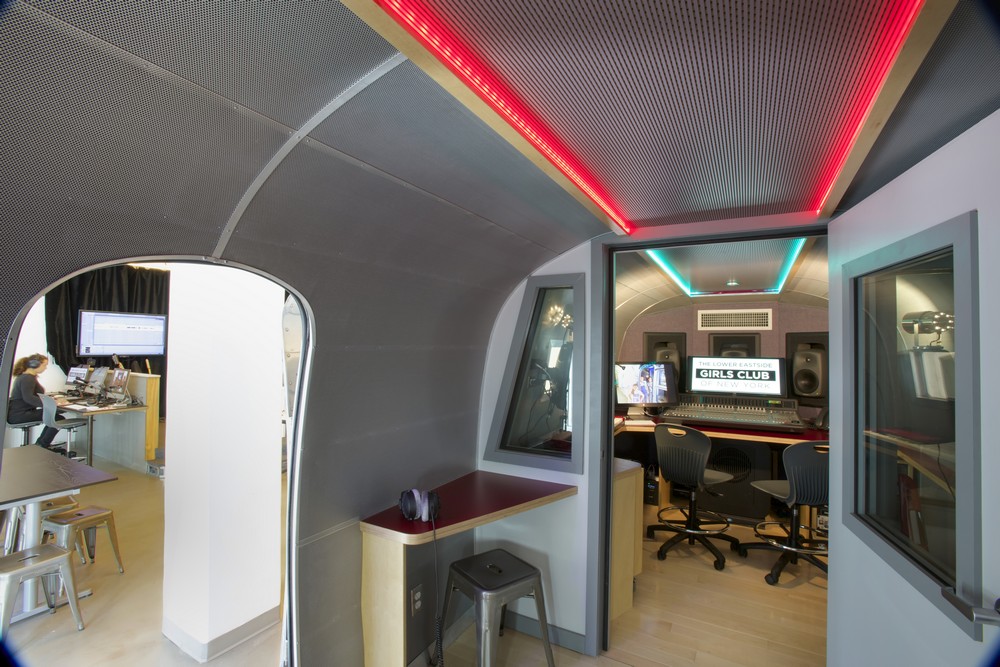 "We've built recording studios in a basement (Electric Lady), and a duplex penthouse overlooking NY's Highline (Jungle City)," Storyk says, "but this is the first time we've had the chance to ply our trade in an Airstream Trailer.  As a visiting professor of acoustics and studio design for the Berklee College of Music and other schools, I have an abiding interest in educating young people. Dave Pentecost brought WSDG a compelling challenge, 'was it possible to create a viable recording studio within the confines of a 140 sq, ft, Airstream Trailer?' The obvious answer is yes, although the geometry, the equipment selection and the acoustic considerations did present us with significant design restrictions. If an opportunity to design a studio for a submarine ever comes up, we might take a pass," he adds.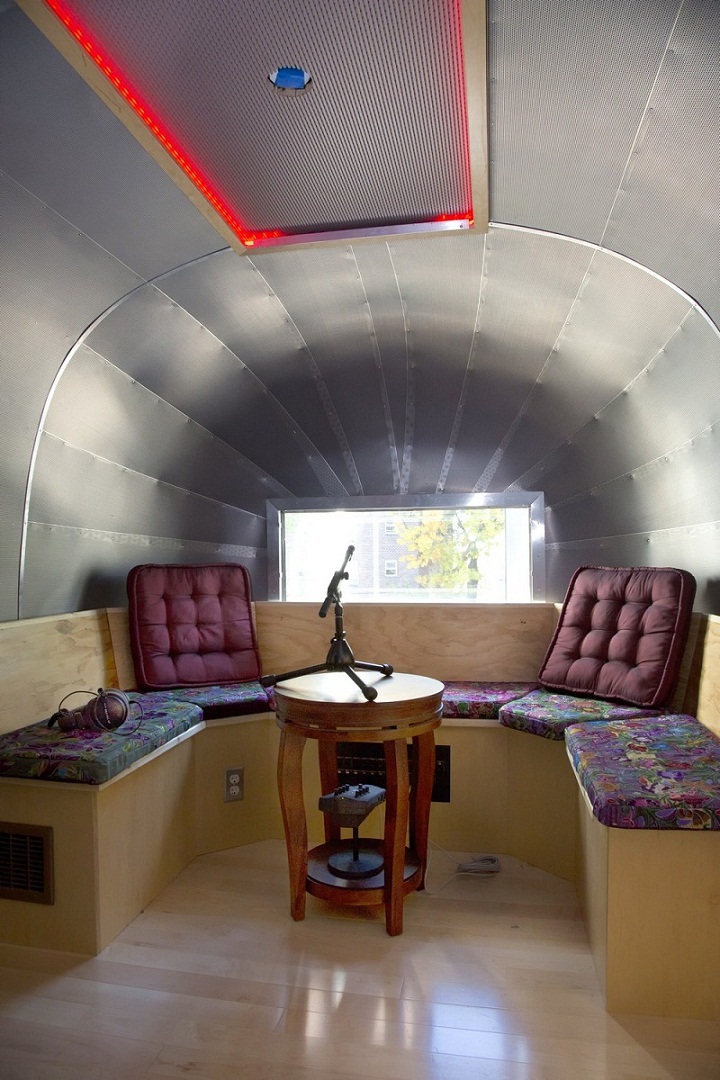 The Airstream Studio includes both a live room for radio, vocals, and instruments, and a control room. In that regard, it is one of a kind.  It will also be engaged to produce and mix Internet radio programming for the Girls Club's new WGRL Internet Radio station, sound tracks for student videos and for the LESGC Planetarium's constantly evolving educational presentations, and to record live student performances from the stage of the 2nd floor community room in which it resides. It can accommodate up to 3 students and an instructor in the control room, and another 3 to 4 people in the live room area. The space outside the trailer is a combination classroom/ live performance stage.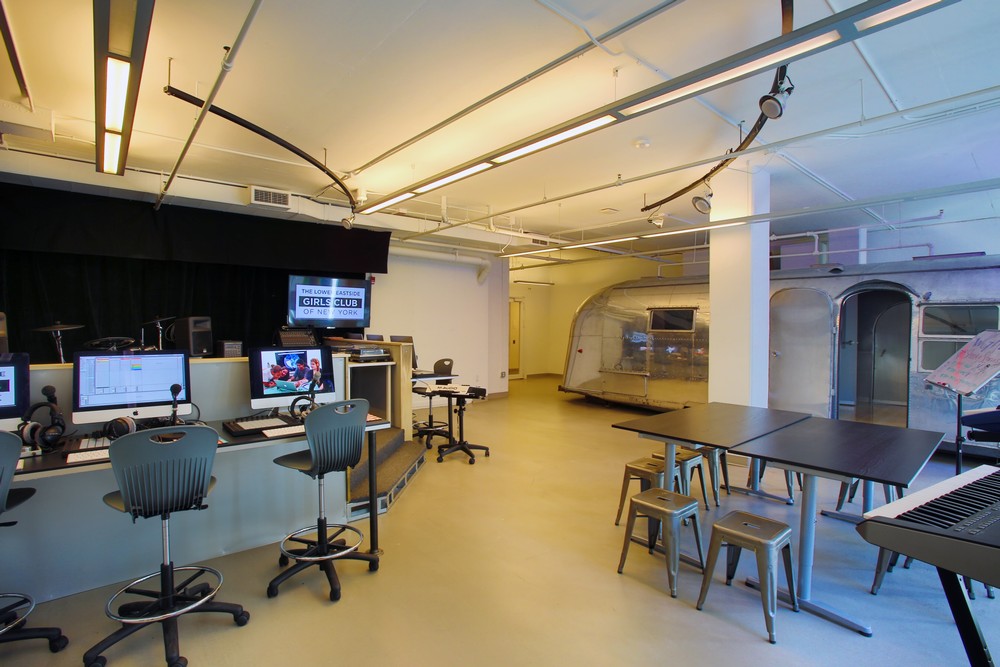 Ms. Pentecost and a diverse group of community, grassroots and financial supporters first formed the LESGC, when they realized there were no distaff alternatives to the city's various Boys Club organizations.  The new building has over a dozen separate program sites, and can accommodate up to 200 members simultaneously.  The upper stories (accessed via a separate entrance), are allocated to mixed income rental apartments, approximately half of which are available at middle and low-income rates.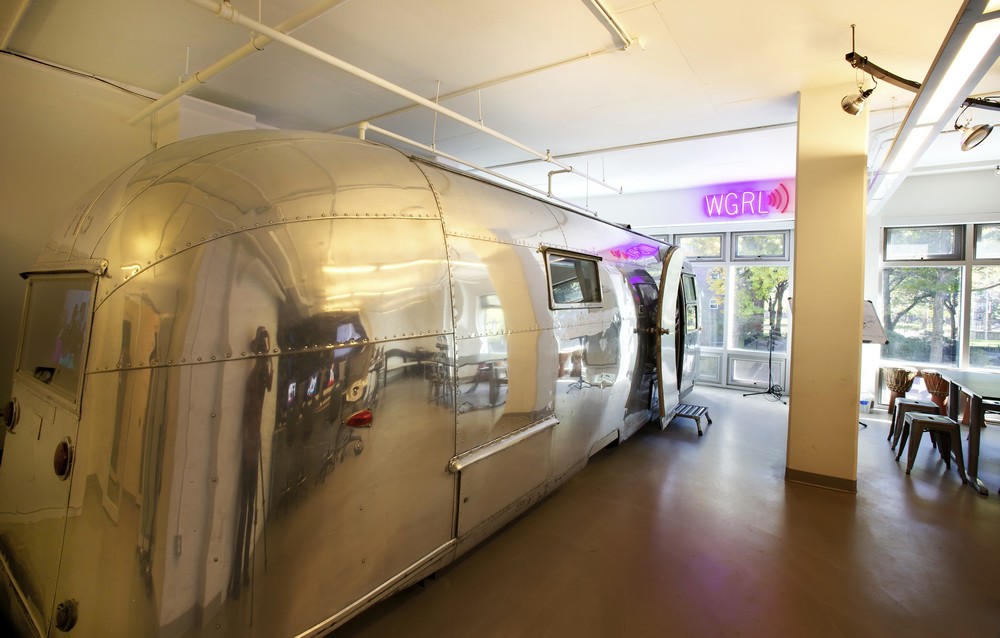 Though compact, the control room is 5.1 surround ready, and features an array of pro gear including an Avid C/24 mixing console, Genelec Speakers, outboard processing technology from Manley, API, Neve, Universal Audio, SSL, etc., and mics from Neumann, Royer, Shure and Sennheiser. A serious professional-level studio, the Airstream will provide LESGC members with a serious, realistic hands-on recording experience.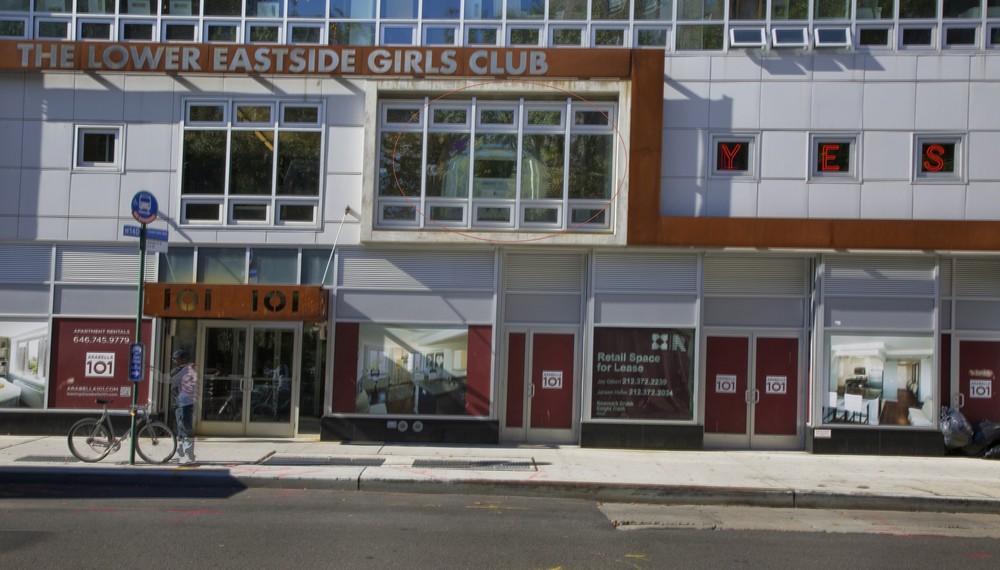 "In my teaching experience I have seen an increasing number of young women seeking roles in pro audio production," John Storyk concludes. "The LESGC Studio will serve as a valuable introduction to the field of audio recording and mixing. It will be very interesting to watch (and hear) the skills they develop, and to see them transfer these skills to the real world."