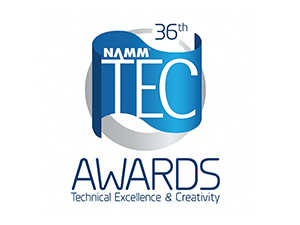 The TEC Awards committee and the National Association of Music Merchants (NAMM) have announced the nominees across the 22 Technical Achievement and seven Creative Achievement TEC Award categories. The annual TEC Awards recognizes and celebrates the individuals, companies and technical innovations behind the sound of recordings, live performances, films, television, video games, and multi-media. The TEC Awards creators and innovators will be honored during Believe in Music Week, January 2021.
Over 1,000 products and projects were nominated, and final nominees represent those that, in the opinion of the nominating panel, represent superior accomplishment in their respective fields. Nominees include products and technologies from the likes of well-established brands, including Avid, JBL, Native Instruments, Pioneer, Roland, Yamaha and others, and emerging companies, Spitfire Audio, Soyuz Microphones, and United Studio Tech, making the list.
"Often disruption is a catalyst for innovation and inspiration, and while no one could have predicted the challenges of this year, each of the nominees has contributed new advancements to the industry which continues to raise the bar for audio and sound production," says Joe Lamond, NAMM President, and CEO.
Presented annually as a part of The NAMM Show, this year, the TEC Awards will join Believe in Music Week, an online event held the week of January 18, 2021, where the winners of each category will be announced and honored. Other notable changes include the discontinuation of the Audio Education Technology category, with entries moving to either the Audio Application or Software categories, and a temporary pause to nominations for the Tour Event Sound Production category until live touring can resume.
The TEC Awards will also honor two individuals for their contributions to music and recording. Soon to be announced, an honoree who embodies the creative, innovative, and enterprising spirit of Les Paul will be honored with the Les Paul Innovation Award. Past Les Paul recipients include Joni Mitchell, Peter Frampton, Joe Perry (Aerosmith, Hollywood Vampires), Slash (Guns N' Roses), Don Was (Was, Not Was), Lindsey Buckingham (Fleetwood Mac), Pete Townsend, Stevie Wonder, Todd Rundgren, and others.
The NAMM TEC Hall of Fame, which was created nearly 30 years ago to honor the industry's most pioneering producers and audio recording professionals, will again induct an industry luminary to its list of honorees. Past recipients include Herb Trawick and Dave Pensado, Leslie Ann Jones (Skywalker Sound), Jack Douglas (Aerosmith, Miles Davis), Skunk Baxter (Steely Dan, Elton John), Ed Cherney (Eric Clapton, Bob Dylan), and others.
About Studio 21A
Owned by multi-talented recording and mixing engineer TC Zhou, Studio 21A is a sophisticated 1700 square foot complex situated on the 2nd floor of a recently completed two-story building within the tree-lined Jin Tian Industry Park, an "embassy area" for new media-driven TV and film production in Beijing. The studio is designed to accommodate a myriad of audio production and post-production tasks. Primary elements include CR A, a 324 square foot Mastering Suite, a 230+ square foot Live Room, a spacious 330 square foot Control Room B and a 170 square foot Vocal Booth.  Anticipating client and artist comfort requirements, the studio also features a centrally located 157 square foot lounge.