Discover the new solutions that WSDG is presenting on invisible acoustics.
New York, NY (PRWEB) August 30, 2014
WSDG has designed over 3500 media facilities worldwide. Credits include Jimi Hendrix's 1969's Electric Lady Studios; NYC's Jazz At Lincoln Center and Le Poisson Rouge. WSDG principals John Storyk (an adjunct professor at Berklee College,) Beth Walters, Sergio Molho and Dirk Noy. WSDG has collaborated with such noted architects as Frank Gehry, Rafael Vinoly, Norman Foster, Oscar Niemeyer, Phillipe Stark and Nicholas Grimshaw.
Acoustics generally take a back seat to aesthetic considerations for homes. And yet, when sound reverberations distort conversation, or when noise leaks in from external sources (or out from blasting home theater speakers) acoustics suddenly becomes a serious concern.
However, an increasing number of residential architects (and individual home owners) have engaged our services to prevent or ameliorate acoustic intrusion. Some examples of the top new residential project that illustrate the point.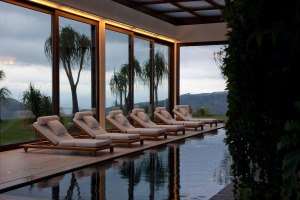 Morro du Chapeu Residence
How do you keep your pool house from reverberating like a gymnasium without draping the walls and windows with heavy curtains? For the owners of a luxurious villa set on one of Brazil's most breathtaking landscapes, the views and pastoral silence were priceless. A long expanse of windows surrounding the infinite lap pool draw attention to the spectacular mountain views. However, the enclosed pool and spa area includes a gym, Jacuzzi and wet bar, surrounded by three walls of double height windows and a movable glass sealing system to maintain interior warmth in the cool evenings. All these elements presented serious sound reverberation issues. Clearsorber Foil, an innovative professional recording studio acoustic treatment, was engaged to eliminate these 'echo's'. The pioneering translucent plastic sheets absorb medium and high frequency reverberation to resolve sonic reflections. Each window, (including a skylight grid of 20 individual panels) was custom fitted with the acoustical treatment. Full transparency insures unimpeded views and, conversations free from typical pool house reverberation.
Penna Home Theater
Can you isolate a home theater within a luxurious open format apartment without compromising its expansive environment? WSDG's solution was to engage retractable, floor-to-ceiling walls. The resulting installation maintains the home's loft-like, kitchen/ dining/living room atmosphere and delivers a fully enclosed, 377 sq. home theater. Recessed lighting is set into a custom-recording studio-style, acoustic 'ceiling cloud,' designed to absorb sound reflections and aid in tuning the room for optimal acoustic integrity. Two sets of customized, 3-section, telescoping acoustic walls ride out from their 'nesting units' on tracks embedded in the ceiling and floor to isolate the theater from the rest of the apartment. Acoustical fabric absorption treatments were added to the interior of the sliding panels; handsome wooden diffusion treatments were fixed to their exterior sides, and a QRD diffusor was applied to the rear door.
Ribeiro Home Theater
Preparing to move to a palatial new penthouse, this client was fully aware of the need for high-level technology and meticulous acoustic treatments to achieve exceptional sound AND eliminate noise leaking into (or out of) his home. To eliminate sound leakage to the lower level WSDG built a 'floating' floor over vibration isolators, which greatly minimize the transmission of noise from the subwoofers to the residential section of the apartment. Additionally, cuts were made in the floor in front of the Adam Sub24 subwoofers to compensate for their vibration. Acoustics were further enhanced by a perforated acoustic treatment, mounted at a precisely calibrated distance from the slab on a wooden-slat-dressed ceiling for superior sound absorption.