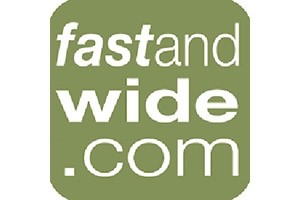 More than the cocktail bar, more than the architecture, more even than the vintage instruments on display or the immense Neve mixing desk that dominates the room, there is a buzz here. Even among the prestige recording studio parties of past years, this feels special.
The church setting is somehow significant… something precious has been saved and everyone present knows it.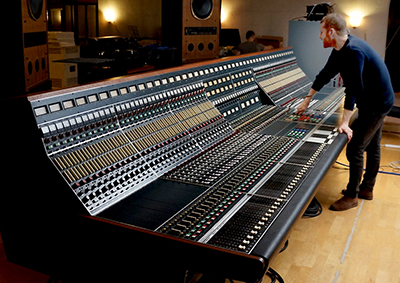 It's no secret that the past two decades have seen London's once glorious recording studios take a battering at the hands of cheap recording technologies, the rise of new electronic entertainment, and a record industry that shamelessly gorged on CD reissues and undermined the technical endeavour that sought to deliver the best listening experience possible. More recently 'big room' studios have staged a tentative recovery, but many will remain lost forever. Today, however, The Church Studios is back in full commercial operation, and there's every reason to rejoice.
Before the Eurythmics, The Church was home to animators Robert Bura and John Hardwick, who were responsible for animated children's TV classics Captain Pugwash, Camberwick Green and Trumpton, as well as being involved in Dr Who. Having rented space there, it became the Eurythmics' home in 1984. Like Air Lyndhurst, the studio occupies a former church building in North London – and has done so since opened by Eurythmics entrepreneur Dave Stewart in 1984, when it was to host sessions for the likes of Bob Dylan, Elvis Costello, Radiohead and Depeche Mode. Subsequently bought by David Gray in 2004 and operated as a private facility, it is now in the hands of producer Paul Epworth, having flirted briefly with property redevelopers before Epworth's intervention. Now set to remain a recording facility, Gray's tenure is being regarded kindly, as a bridge between better times and today's revival.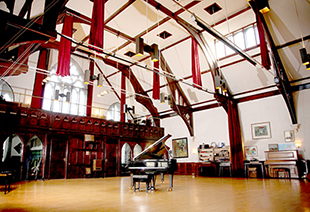 'I'm delighted to be handing on this wonderful building in the knowledge that it will remain a vital part of London's ongoing music heritage,' Gray said on the announcement of the sale. 'I am just putting the finishing touches to what will be the fourth studio album I have recorded at The Church, and it remains a very inspiring place. I bought the studios as my own personal recording space and, at one stage, it looked like the chances of selling it on as a working studio were close to zero. I know Paul has lots of ideas and I wish him and the studio the very best.'
The opening marks the end of a nearly year-long reconstruction of the live and control rooms, and the creation of a new 'writing room', calling on the Walters-Storyk Design Group and Miloco Builds. 'Paul had been looking for his ideal studio property for four or five years,' says Miloco MD, Nick Young. 'He found a few potential sites, and we would go and see them but they didn't happen for one reason or another. Then he found The Church through David Gray – it had served its purpose for him.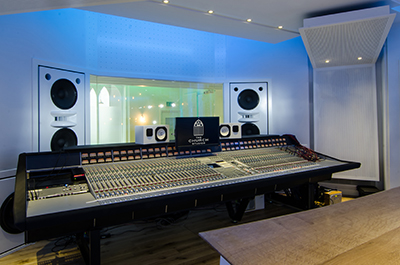 'It could have closed,' Young continues. 'It had been on the market a little while, but then Paul came along and he had the vision to see what he wanted to do with it. When Dave Stewart was running it, things were very different. Studios were almost buoyant then, and he ran it as a successful commercial studio as well as his own studio – he did what Paul is doing now. It's a stunning building but with the way the industry today is, you've got to have a lot of foresight and guts to take it on.'
Storyk is among the opening party guests, along with WSDG partners Beth Walters and Dirk Noy. As their first London project it's a good one: 'After building hundreds of idiosyncratic studios around the globe over the past 45 years, The Church marks our first footprint in London,' he confirms. 'Paul's technical expertise and design instincts are as inspired as his record productions. We were especially pleased that Paul retained Miloco Services to supervise construction and operations – they've been on our radar for years, and working with them has been an extraordinary experience.'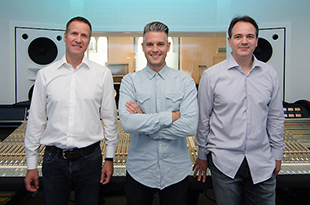 The involvement of WSDG was prompted by a visit to Anne Mincieli's Jungle City Studios in Manhattan – impressed by the architectural sensibility and its WSDG/Augspurger monitoring speaker, Epworth contacted architect/acoustician, Storyk. 'I was very impressed with the feel and the monitoring of Jungle City, and wanted to be the first to build a WSDG/Augspurger room in London to meet the needs of both British and international artists, producers and engineers,' Epworth says.
'We recommend Augspurger inspired speaker systems to many of our high-end studio design clients,' Storyk adds. 'Over the years we've developed a number of custom mounting and tuning methods, which demonstrably enhance their sound quality. Components are often slightly modified to mirror desired playback levels. Additionally, each pair of cabinet designs is slightly different, often resulting in non-rectangular solutions. Careful time alignment of components and occasional asymmetrical parametrics are also employed. The proprietary tactics we've devised have led us to present our installations as WSDG/Augspurger – we do not think of the speaker as a box, but rather a speaker system, involving cabinets, front wall design, room coupling, careful component matching and final tuning/commissioning.
'We consider Jungle City Studios to be one of the best examples of this approach. This assessment was borne out when Paul recorded a (major) band there two years ago. He was so taken with the sound quality he invited us to incorporate our Augspurger monitoring approach for his renovation of The Church.'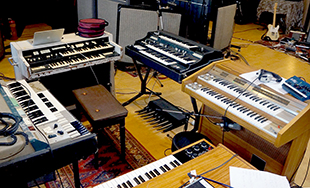 The WSDG role was quickly to escalate, however….
'After week one of doing sound tests, it was pretty apparent to us that the SSL room wasn't isolated well enough from upstairs,' Young explains. 'You couldn't record somebody downstairs without interfering with people upstairs – especially with the power of the monitors that Paul was going to be putting in. I was surprised to find that at The Church, as it had been running as two studios for many years.
'We did some sound tests – we got PA systems set up in the different rooms, and started measuring. And as we walked around the building we were hearing things. We just got a feel for it. Because we build studios as well as run them, we check all our bases. We don't just go in there and expect everything to work.'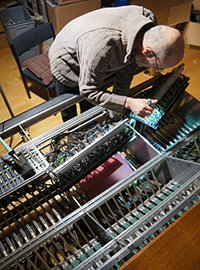 'That initial assignment led to a complete demolition and re-design of the lower floor studios – resulting in a brand new writing studio and essentially a full rebuild of the Studio 2/SSL Room,' Storyk recounts.
'When Miloco Builds began their demo work, we were all amazed to discover a total absence of isolation between the first and second floor as well as some of the rooms on the ground floor itself. The more wall and floor space they uncovered, the clearer it became that no quick fix was possible. The entire space had to be completely gutted.
'Obviously the timeline and the budget needed to be reconfigured, but the results were well worth the effort,' he continues. 'Paul and his initial clients have expressed great satisfaction both with the monitoring systems and with the pristine acoustics.'
'[Miloco Technical Manager] Pete Hofmann and John were in dialogue about it from the beginning,' Young says. 'We pretty much had to knock down what was there and rebuild it from scratch. The whole SSL room was taken out. We got it down to the base of the control room and even questioned that. Why were we leaving that base there when we'd destroyed everything else? It just made sense to start from the ground up.'
The result is a 'totally new' studio, featuring a completely recapped SSL 4000G console, custom WSDG/Augspurger monitors and an incredible array of outboard. The Writing Room was designed from the ground up by WSDG, centred on an Equinox summing mixer and 20-channel Neve Sidecar with access to the full vintage gear collection.
Accompanying the rebuild of the studios themselves, Epworth was also having a mixing console rebuilt for Studio 1 – a vintage 72-channel EMI Neve console, credited with recording Pink Floyd's Wish You Were Here at Abbey Road. 'It is a monster, that's the only way to describe it,' says Nick Young. 'Half of it came from Abbey Road and the other half came from EMI Pathé Marconi in Paris.'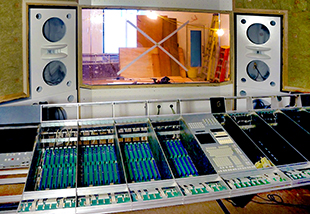 Apart from Abbey Road, Pathé Marconi was the only EMI studio where the Beatles recorded – Pathé Marconi studios were regarded as the French Abbey Road. The desk came to The Church from a residential studio in the UK as a single console. When Paul found the console it was being refurbished by Blake Devitt. It is presently London's only EMI Neve console, and is accompanied by a singularly impressive collection of outboard and microphones (see full equipment listing).
'Blakey is the ultimate Neve expert… probably in the world,' Young says. 'He has worked all around the world on vintage Neves. There isn't anything he doesn't know about them. He spent a year-and-a-half going through the desk so that it would be ready when it came in here – he built the centre section. Then he came in here and got it all up and running.
'We were progressing nicely, and then suddenly we had a session coming in a month's time. We had to get the desk wired up and all working. It was pretty full-on. I've never seen people work so hard.'
The classic console is accompanied by some classic monitoring – rare Tannoy Super Red SRM 15X floor-standing speakers and Tannoy Little Golds, as well as Yamaha NS-10Ms and Quested SB 10 Subs – all in an open live/recording configuration that Epworth favours, and which perfectly complements the isolation of the sister SSL room. Together with the intimate Writing Room, there's a feeling of completeness to The Church that would flatter the old school of London recording studios.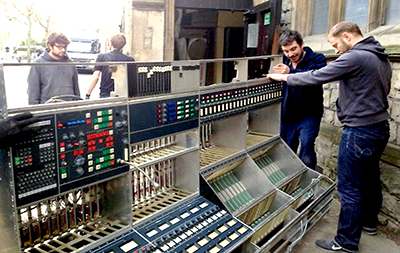 'It has been the most complicated build we've ever done,' Young reflects. 'But we hope to work with WSDG again. We've loved working with John and he's been really happy with the finishing.'
'Bringing WSDG in to design two of their world-renowned rooms was the first step, and the collaboration with Miloco has been an incredibly successful team effort,' Epworth concludes.
'The Church provides nearly 8,000-sq-ft of recording space over three very different rooms, including rare and vintage recording gear married to the most modern digital and analogue equipment to give users the freedom to indulge their creative impulses – instantly.'
'Studios are so much about the feel of the room,' Young agrees. 'A lot of people who open studios don't get that – they buy all the latest gear and put the flashiest monitors in. And then artists don't want to work there because it doesn't feel right. The vibe of a room is so important. So many people get that wrong.'
Paul Epworth, however, has got it very right…