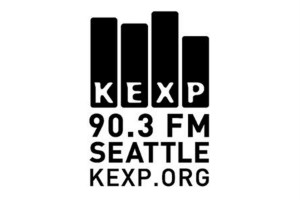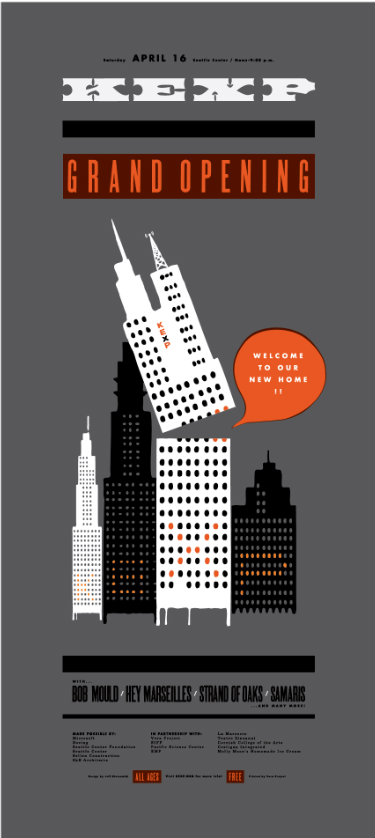 KEXP'S NEW HOME GRAND OPENING
Saturday, April 16thNoon–9:00 PM
Seattle Center
472 1st Avenue North (at the corner of Republican)
FREE/all-ages – Red Hook beer garden with ID
#KEXPNewHome
SCHEDULE:
Noon – Short solo sets by Grace Love, Sera Cahoone, Mark Pickerel, DoNormaal, David Bazan (Gathering Space)
12:30 PM – Strand of Oaks (Gathering Space)
1:30 PM – Interview with King County Council Member Joe McDermott (Gathering Space)
2:00 PM – Vita Radionova from Teatro Zinzanni (Gathering Space)
2:20 PM – Interview with Seattle City Councilmember Sally Bagshaw, representing District 7 (Gathering Space)
3:00 PM – TBA (Courtyard)
3:40 PM – Samaris (Gathering Space)
5:00 PM – Bob Mould (Courtyard)
6:30 PM – Hey Marseilles (Gathering Space)
7:10 PM – Deep Sea Diver (Courtyard)
8:30 PM – Car Seat Headrest (Gathering Space)
All live performances will be broadcast on KEXP 90.3 FM Seattle and KEXP.ORG
Additional activities
• Free tours of the New Home every 15 minutes
• "Inside the Music of KEXP" interactive installation, powered by Microsoft
Our new Seattle Center neighbors have plenty of activities planned for Grand Opening weekend:
• Pacific Science Center is hosting a KEXP laser light show, featuring DJ Riz, at 8:00 p.m. on Saturday
• Vera Project will have free performances by Beverly Crusher and Charms during the day Saturday, and a ticketed show (presented with Wo' Pop) with Algerian desert rock sextet Imarhanin the evening
• SIFF has events all weekend, including a screening of Storefront Hitchcock on Thursday and theSYNC Music Video festival on Friday, both at SIFF Cinema Uptown theater
• The SIFF Film Center (next to Vera Project) will be open and free to the public during the day Saturday, showing highlights from its extensive collection of Seattle music videos
• Teatro ZinZanni contortionist & hula-hoop artist Vita Radionova will also be performing at Grand Opening.
Refreshments:
• The La Marzocco café & showroom in the Gathering Space will be open for business
• Molly Moon's handmade ice cream will be selling a special "Cheryl Waters Middae Sundae" (vanilla ice cream, hot fudge, candied hazelnuts, whipped cream and a cherry)
• Greek fare from Athena's Food Truck
• Beer garden in collaboration with Redhook, proceeds benefit KEXP.
Souvenirs:
• Limited-edition Theo Chocolate KEXP Sound Bar, 70-percent dark chocolate and locally sourced sea salt (organic, vegan, fair trade)
• Six different screen prints, created in partnership with the Vera Project, including Strand of Oaks (by Barry Blankenship) and the big poster by Jeff Kleinsmith (Sub Pop)
• Two special KEXP/Record Store Day album releases – more info on those next week
On Saturday, April 16th, KEXP opens the doors of its New Home at Seattle Center to the public with a free, all-ages celebration from Noon until 9:00 p.m. at 472 1st Ave North (at the corner of Republican). Artists performing at the Grand Opening include Bob Mould, Strand of Oaks, Hey Marseilles, Deep Sea Diver, and Icelandic trio Samaris, with more to be announced.
"Over the years, KEXP has broadcast live sessions with me from all over the US: studios in NYC, clubs in Portland OR, and festivals such as Bumbershoot and Sasquatch," says Mould. "I'm thrilled to be part of the grand opening of the new KEXP location."
"KEXP's main and constant drive is their passion for music," said Samaris. "They actively dig up and are interested in new music, something that sadly is getting rarer and rarer. They were one of the first places to give us the opportunity to be heard outside of Iceland and for that we will always be grateful."
KEXP's New Home, designed by SkB Architects and WSDG, was tailored specifically to reach more music lovers, break down barriers between listeners and their favorite artists, and make it even easier to share new music and experiences with KEXP Community members all over the world.
"KEXP connects people through music," said Kyle Gaffney, lead designer and co-founder of SkB Architects. "As designers, our goal was to translate and amplify that idea into architecture and physical space. Now, KEXP not only connects with their global audience over the airwaves, but physically at an individual and community level."
For the first time, KEXP's 400+ in-studio performances every year will be open to the public, and its public Gathering Space offers a centrally-located venue to host additional shows and educational programs while increasing connections to the neighborhood, Seattle Center and the city. Since KEXP launched its $15M capital campaign in 2012 to finance the project, 7,987 music lovers have donated their support to help build KEXP's New Home.
To celebrate the opening of KEXP's New Home, KEXP worked with Microsoft to create a unique, interactive music experience inviting the audience to physically go Inside the Music of KEXP. Using Microsoft technology including Kinect, an environment and experience will invite participants to enter and "remix" songs by four KEXP artists (to be announced soon).
As a listener-powered radio station, KEXP takes pride in being part of the Seattle music and arts community. In addition to the confirmed bands, guest performers from Teatro Zinzanni will also participate in the day's festivities. Seattle Center neighbors Vera Project, SIFF, and Pacific Science Center will offer additional live music, films, and other activities.
To commemorate the New Home celebration, the Vera Project partnered with KEXP to curate and produce a series of limited-edition screen printed posters available for purchase at the event. In addition to the main event poster designed by Sub Pop Art Director Jeff Kleinsmith, there will be an additional set of prints available showcasing individual performing artists as well as Microsoft'sInside the Music of KEXP installation.
KEXP's New Home Grand Opening is made possible by Microsoft, Boeing, the Seattle Center Foundation, Seattle Center, SkB Architects and Sellen Construction. Additional partners providing support include the Vera Project, SIFF, Pacific Science Center, EMP, Teatro Zinzanni, La Marzocco, Costigan Integrated, Molly Moon's Homemade Ice Cream, and Athena's Food Truck. Grand Opening Beer Garden presented in collaboration with Redhook, with proceeds to benefit KEXP.