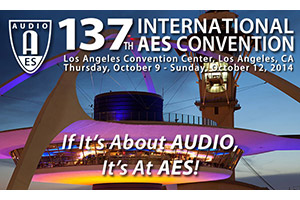 The annual AES Convention is where the Recording and Production Track sessions bring top engineers and producers together to share classic techniques and new ideas with the audio recording community.
Considered by many to be the most popular series of panels and presentations at the annual AES Conventions, the Recording and Production Track will take place each day during the 137th Audio Engineering Society Convention, set for Thursday, October 9, through Sunday, October 12, 2014, at the Los Angeles Convention Center in Los Angeles, California. The sessions that make up the Recording and Production Track cover every major aspect of the practical side of music production, including recording vocals, mixing techniques and mastering, in addition to several special presentations from leaders in the industry.
Of interest to all recording engineers and producers this year will be Thursday's keynote speech given by legendary engineer/producer Alan Parsons, who will share his insight and experience from being part of some of the greatest recordings of all time. Friday's keynote will further feature Neil Portnow, President/CEO of The Recording Academy, The GRAMMY Foundation and MusiCares, who will share his valuable insights into the music business and the challenges and opportunities available in today's evolving industry.
Also popular is the Platinum Events series, which covers a variety of topics with high-profile guests and panelists. This year's Platinum Engineers Panel will feature Dave Pensado and Herb Trawick, hosts of the popular weekly pro audio show Pensado's Place. Attendees will get to see what happens when "The Script Is Flipped" and Pensado and Trawick are put on the other side of the interview – sure to reveal some unique insights and surprises along the way. A Platinum Mastering event will feature acclaimed mastering engineer Bob Ludwig, along with mastering engineer and incoming AES President Andres A. Mayo and other highly respected audio pros such as Bruce Botnick, Mark Donahue and Barak Moffitt, who will discuss the ramifications of the recent defining of "High Resolution Audio." This presentation will include a guided tour of audio samples, so the audience can hear for themselves how High Resolution Audio can provide the listener with exactly what artists hear in the studio while creating their music.
AES137 will also feature the newest Project Studio Expo – a popular series of events taking place on the exhibition floor targeted to the burgeoning market of project and home studio facilities around the world. The PSE, included with admission to holders of the Free Exhibits-Plus badge, will feature presentations by leading industry engineers, producers, authors, journalists and educators, including Alex Case, Mike Senior, Stephen Webber, Larry Crane, Craig Anderton, Mick Guzauski, John Storyk, Paul White, Hugh Robjohns and others. Presenters will lead attendees through basics such as recording vocals, preparing multitracks for mixing and best practices for proper monitoring, as well as more detailed discussions on how to optimize value when it comes to choosing and purchasing equipment, how to design a great project studio and how to get the most out of a digital audio workstation. The Project Studio Expo will take place Friday, October 10, and Saturday, October 11, throughout show hours.
This year will also offer master classes that deconstruct, track-by-track, original recordings from Fleetwood Mac, the Beach Boys, David Bowie, and the Red Hot Chili Peppers in the inaugural "Raw Tracks" sessions. On Saturday, October 11, from 5:30 to 6:30 p.m., "An Afternoon With Geoff Emerick" will get attendees up close and personal with the legendary Beatles engineer (also known for his work with such artists as Elvis Costello, Jeff Beck, The Zombies, Robin Trower and Badfinger), who will expound on stories that are part of the living history of music production. This very special presentation will be enhanced with seldom seen photos and video footage as well as rarely heard audio clips.
Additional Recording and Production Track events include a "Mastering for Engineers" session, a presentation entitled "Inside the Mix" given by multi-GRAMMY® winner David Reitzas, and a session titled "Master Mission: Spreading the Word On Mentoring, Formats, and a Changing Industry," addressing current changes and opportunities in the burgeoning Recording and Production field.
Another mainstay of the AES conventions – the Technical Tours – will offer participants the chance to tour and experience a variety of top-notch local L.A. facilities, from leading studios to manufacturers and live sound venues. This year's stops, over the four days of the convention, include Sony Computer Entertainment America, Capitol Studios, 20th Century Fox facilities, Village Studios, the QSC factory, EastWest Studios, Dolby Theater, Walt Disney Concert Hall, Henson Recording Studio and The Dub Stage. Tickets are available for purchase during normal registration hours at the convention center.
Also, for the first time in AES history, there will be a panel officially held in Spanish in an International AES Convention. The panel "Grandes Productores de América Latina" ("Great producers from Latin America") will bring together several of the biggest names from the region, all of them multiple GRAMMY Award winners, to present their most recent work and discuss the state of the musical industry in Latin America.
"This year's Recording and Production Track is as exciting and in-depth as it's ever been," says Recording Track Co-Chair Andres Mayo. Co-Chair Jim Kaiser adds, "We've got the project studio side comprehensively covered by our colleagues at Sound On Sound magazine with the PSE, and we have noted and award-winning engineers and producers covering a wide range of other topics that will give those who attend an enticing and well-rounded experience."
For information on the Recording and Production Track and how you can get your FREE Exhibits-Plus badge (pre-registration required) for the AES137 Convention, as well as All Access badge, and Technical Program information, visit the AES137 webpage athttp://www.aes.org/events/137/.
About the Audio Engineering Society
The Audio Engineering Society was formed in 1948 and now counts over 14,000 members throughout the U.S., Latin America, Europe, Japan and the Far East. The organization serves as the pivotal force in the exchange and dissemination of technical information for the industry. Currently, its members are affiliated with more than 75 AES professional sections and more than 95 AES student sections around the world. Section activities may include guest speakers, technical tours, demonstrations and social functions. Through local AES section events, members experience valuable opportunities for professional networking and personal growth. For additional information visit http://www.aes.org.