Visit project page
The location we discovered has all the attributes for a successful studio,' says producer/engineer Louis Benedetti of his two-year search for the ideal New York City studio location.
That location is a former bank building on one of Soho's chicest streets, where his collaboration with an NY contractor has produced resulted an ingeniously designed studio. It came at a cost – and with unanticipated isolation issues…
A call to the Walters-Storyk Design Group brought the guidance that has made Thompson Studios the realisation of Benedetti's dream – and the latest world-class studio calling local and international artists to New York.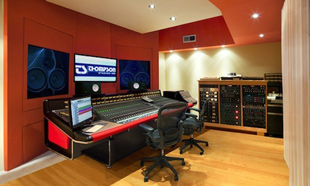 The studio picks up on a string of studio openings in 2011 that heped put large-room recording back on the audio agenda. While there is a good internationa sprea of these – including Blade Studios in Lousiana, Sound Temple in North Carolina, Green Road in Costa Rica, Roma & Romma Records in Venzuela, nhow in Berlin and Studio 85 in Paris – New York is steadily rebuilding its standing on the world stage with Ann Mincieli's Jungle City Studios leading the way.
'Our initial design maximised the use of the space and took full advantage our primary window with an elegant in-studio glass placement programme,' Benedetti says of the formative stages of the Thompson Studios project. 'Windows between our [two] primary control rooms and shared live room provide invaluable natural light and clear site lines between artists, producers and engineers. Unfortunately at the completion of construction we discovered a significant sound leakage issue.'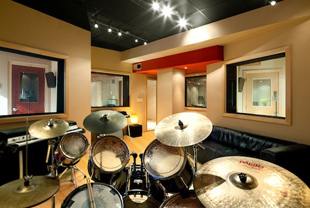 An initial review of facility by WSDG Project Manager Joshua Morris revealed seriously compromised isolation issues between the live room; SSL Control A; and Neve Control B, all of which are structured around a common lounge. 'We also encountered leakage from Control room A into a neighboring space on the same floor. Studio C, a small writing/production room equipped with Pro Tools, Logic and Final Cut Pro; and the galley kitchen were unaffected by the isolation issues,' Morris says. 'Our tests determined that, even though the control rooms were completely floated, room-within-room installations, and had been tuned with low frequency control treatments, the interior walls between Control Rooms A and B and the live room needed to be replaced. This complex design problem was resolved by removing the original walls, replacing them with non-acoustic walls and re-sealing them with a third fully-treated wall. These corrective measures provide the boundary required to completely eliminate sound leakage. The entire complex now offers a fresh, open look and, exceedingly accurate sound translation,' Morris adds.
Thompson Studio A features an SSL 4000G Series console fitted with Automation and Total Recall completely recapped and restored by 81series.com serving a Pro Tools system and a Studer 827 24-track analogue recorder. Monitoring is courtesy of Boxer T5 mains with two Genelec 1094 subwoofers, along with Yamaha NS-10 close fields, Genelec 1031 close-fields and Auratone speakers. An iso booth and a extensive range of analogue outboard gear plus an impressive list of keyboards, synthesisers, instruments and microphones, pitch the room at production, tracking, mixing, over-dubbing, film scoring and composition work.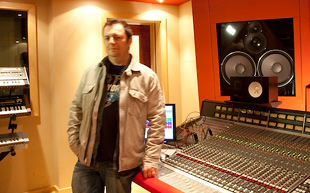 Equally well-suited for tracking, production and mixing, Studio B features a Neve 8108 console, (impeccably restored by 81series.com). In addition to Barefoot MM27 and Yamaha NS10 monitors, the room is equiupped with Pro Tools HD3 System, Logic, Cubase and an iso booth.
'Flexibility was a priority for this project,' John Storyk says. 'Louis Benedetti has assembled a considerable collection of keyboards, synthesisers, analogue and digital gear. Because he works on a wide range of projects, from jazz to rock, to movie soundtracks, he needed a studio that would function flawlessly for any type of artist.
'Thompson Street is one of NY's coolest neighborhoods,' he continues. 'This impressive space is situated in a rock solid building. Louis's original design was extremely creative. By engaging sophisticated room tuning technology and resolving critical isolation issues, we've polished a true gem. Artists will come for the vibe and the quality of the rooms, and then take advantage of the surrounding clubs and restaurants to feed their creativity.'
'I've worked with many indie labels and artists, and have strong relationships with a number of European colleagues,' Benedetti responds. 'Our initial clients have been blown away by the accuracy, technical support and overall vibe of our new studios. We put all our experience into making this a very special place.
'In addition to John Storyk's and Joshua Morris's initiatives for resolving our accuracy and isolation issues, WSDG interior design partner Beth Walters made a number of extremely helpful recommendations which improved the look and feel of the facility.
'My Swiss-based associate Robert Kostadinovich and I are confident that we will attract a wide range of clients. Recording artists, engineers and producers seeking a comfortable, fully-equipped, carefully maintained studio need look no further than Thompson, here in the heart of New York's Soho.'