Partner, Art Director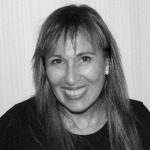 Silvia Molho has worked in the video industry since 1987. She is a graduate of the Bellas Artes University in Lima, Peru and Visual Anthropology in UBA, Buenos Aires. As a video producer she has served on several video and film productions and documentaries in Peru, Paraguay and Argentina. Her areas of expertise include graphic design, multimedia and DVD projects. She is part of the graphic design team of WSDG.
Since 1994 Silvia Molho is the representative for WSDG in Latin America and she is the interior designer and supervisor for the group projects in this particular area. These projects include worldclass facilities such as Soundesigner Mastering Suite, Fito Paez / Circo Beat Recording Studios, Soundrec Recording Studios, Swing Musica and others.
Favorites
Buildings: Duomo, Milan Italy
Music: Gershwin