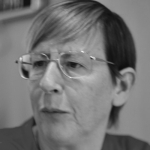 Judy Elliott-Brown has been a professional audio engineer since 1977, with a background in live touring, remote recording, music recording, sound for television, studio maintenance and systems design.  She has been responsible for the systems infrastructure design and installation of over 100 projects worldwide.  Projects she has worked on include world class audio recording studios, media/broadcast production studios, educational facilities and multi-use performance spaces. Some specific WSDG projects which Judy has contributed to include JSM Music (New York), Syncrosound (Kuala Lumpur, Malaysia), Ex'pression College of Digital Arts (California), Jazz at Lincoln Center (New York) and Village Studios (Guangzhou, China).
Judy is a full-time systems design engineer and project manager, and has been responsible for systems design and installation on many WSDG projects for over 25 years.
Judy is a member of the Audio Engineering Society (AES) and National Academy of Recording Arts and Sciences (NARAS). Additionally, she has worked on several Grammy nominated albums and was a sound engineer for a Sci-Fi cartoon show.