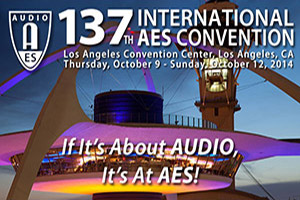 AES 137th. Los Angeles, California
Thursday, October 9 – Sunday, October 12, 2014
Title: Broadcasting Design
Chair: John Storyk co-principal, WSDG
Description: TO MOVE, OR NOT TO MOVE? CONTRASTING SOLUTIONS – TWO WEST COAST FM STATIONS ADDRESS SHIFTING LISTENER NEEDS
To download the lecture PDF please go to www.wsdg-ftp.com
username: aes2014
password: aes2014
Upgrade For KPFK FM, Hollywood – New Home For KEXP FM, Seattle
The meaningful (and growing) role that radio continues to play in listener lives is clearly illustrated by the contrasting upgrade decisions of two leading west coast FM stations. A staple of Seattle's booming music scene for over 40 years, KEXP 90.3 FM is preparing to move to a 21st Century broadcast facility. Situated in the world-famous Seattle Center, in the shadow of the iconic Space Needle , KEXP' s new home will feature cutting edge broadcast/recording studios, and, a live performance venue designed to showcase visiting artists and produce audio and video content for archiving as well as streaming via the station's website.
Concurrent with this move, KPFK Public Radio in Hollywood, a multi-award-winning, listener-sponsored part of the Pacifica Network since 1959, is upgrading its long-term home. The project will include a major acoustical update of their live performance studio and, a brand new control room. With its 110,000- watt main transmitter atop Mount Wilson , KPFK is one of the most powerful FM stations in the western U.S. The redesigned live room and new audio control room suite will enable the station to produce high quality performance, political, public affairs and cultural programming, for archiving and broadcast purposes.
Is it purely coincidental that both these stations have invested in professional recording studios? Does this represent a new trend for 21st Century Internet Radio?