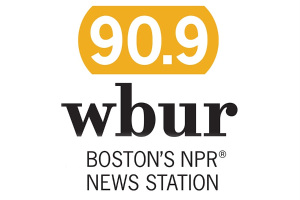 By Andrea Shea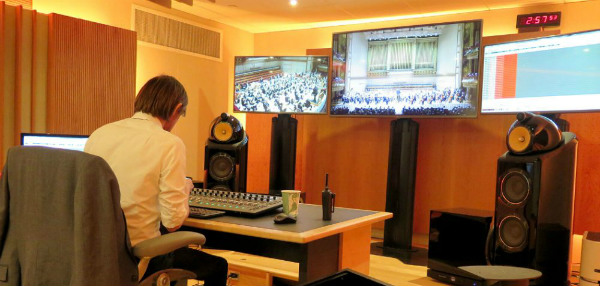 Uncertainty is the music industry's new normal as companies and consumers migrate from albums and CDs to downloads and streaming platforms. That got us wondering why the Boston Symphony Orchestra — which wraps up its current season this weekend — has embarked on an ambitious recording project that seems rare and risky these days.
It's a series of 15 Dmitri Shostakovich symphonies with the classical music label Deutsche Grammophon. The first CD from "Shostakovich: Under Stalin's Shadow" cycle won a Grammy in February. The next one comes out in May.
To find what's driving this collaboration, I took a behind-the-scenes look at how one of the composer's pieces was recorded.
What's Going On Underneath Symphony Hall 
At a rainy day matinee, conductor Andris Nelsons and more than 100 BSO musicians launch into an hour-long performance of Shostakovich's dynamic Symphony No. 8. The stakes in the hall are higher than usual because this concert is being recorded for a commercial CD.
If the audience could teleport down into Symphony Hall's cavernous basement, they'd see a seasoned music production team on high alert. Everyone is listening closely to the performance upstairs, watching it on TV monitors, pushing buttons and taking notes in the BSO's newly renovated recording studio.
"It actually feels like he's moving this along a little faster than yesterday, too, doesn't it?" one producer says about Nelsons' timing upstairs.
Deutsche Grammophon President Clemens Trautmann traveled to Boston for meetings with BSO management about extending the contract for the recording project.
"I believe what we are aiming here at is to create the iconic Shostakovich cycle of the 21st century," he told me.
But Trautmann acknowledged that's no small task in a century where dozens of Shostakovich symphonies can be found online.
He says his 118-year-old classical music label has become highly selective about taking on big projects like this multi-CD cycle. It's a challenge to create recordings that can win over the digital streaming audience. Deutsche Grammophon needed the right orchestra, conductor, concert hall, production team and digitally-minded partner.
"The BSO has a great digital footprint with 10 million unique users," Trautmann said. "That is very impressive."
Especially in the classical sector, Trautmann added.
He called the Boston Symphony Orchestra a "global brand" because it tours, which helps sell albums. And there's the BSO's passionate, Latvian-born conductor, Nelsons, who has a personal connection to the music of Soviet-era Russian composer Shostakovich.
Also, former BSO music director Serge Koussevitzky championed Shostakovich's music in the U.S. The orchestra hosted the American premiere of his seventh symphony, and Koussevitzky bro