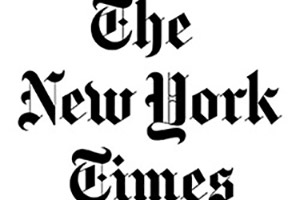 AT midnight on a Monday in late July, the day was far from over for Alicia Keys. That morning the Jamaican bassist and producer Robbie Shakespeare, from the duo Sly and Robbie, had flown in from Miami for a session at the Oven: a house on Long Island that Ms. Keys and her producing partner, Kerry (Krucial) Brothers, have converted into a complex of recording and mixing studios. She spent the afternoon rehearsing with her band in Weehawken, N.J., then headed back to the Oven for a late night mixing session.
"I love my spot," she said proudly as she offered a visitor a tour, wearing wraparound sunglasses and a "Born to Be Wild" T-shirt. "It looks like Grandma's house." From the outside it did. But beyond its parlor the Oven was a warren of clean, well-equipped studios on three floors. Photos of Nina Simone, Janis Joplin, Bob Marley and other old-school figures presided from the walls. It's where she made her next album, "As I Am" (J Records), working at her own pace. Due for release on Nov. 13, "As I Am" will be her first studio album since she released "The Diary of Alicia Keys" in 2003, and Ms. Keys has been describing it as "rebellious" at every opportunity.
"I just was really adamant about doing things that were not expected," she said. While some of its songs reaffirm her connection to 1960s and '70s soul, others lean closer to rock — from the Beatles to U2 — than she has before. The album was about 10 days from being finished, and well into the wee hours people were busy with last-minute mixing and mastering. Manny Marroquin, who was mixing the album's first single, "No One," told Ms. Keys he had just gotten a no-pressure but-pressure call from her A&R contact at J Records. "He was, like, 'Do your thing,' " Mr. Marroquin reported, imitating the tone of the record-company man. " 'I've just got to turn the song in by Wednesday, and I'm not going to get in the way, but —— ' " Ms. Keys interrupted him. "Back up," she said. "I don't like to hear all that. It'll be in when it's in. It's there when it's right, and that's when it's there." Getting it right is essential both for Ms. Keys as a musician and for a recording business with few young stars that inspire loyalty. In the four years between Ms. Keys's studio albums, CD sales have stayed in a tailspin and albums have been dismantled in favor of singles and ring tones. Careers have been forged by "American Idol," which boosts singers rather than songwriters, entertainers more than musicians — nearly the opposite of a self-determined performer like Ms. Keys. Although she is only 26, in many ways Ms. Keys comes across as a proud throwback: a soul singer in the era of abbreviated R&B hooks. She writes and produces her own songs, with various collaborators including, on this album, the rock and pop producer Linda Perry and the songwriter from Floetry, Marsha Ambrosius. She is an accomplished keyboardist and a singer who needs no electronic assistance.
"She doesn't compromise," said Clive Davis, the chairman of BMG North America (the parent of J Records), who has nurtured her career since he signed her as a teenager and his company released her 2001 debut, the multimillion-selling "Songs in A Minor." "I would never think of remotely asking her to compromise."
Although he has appeared on "American Idol" as a musical coach, "I don't give her any advice," he said. "And she doesn't rest on any laurels." Her songs often recall gospel-rooted, idealistic vintage soul, updated with deeper bass and programmed drumbeats. "I do feel like I was born in the wrong era sometimes," Ms. Keys said. "Maybe I just passed away early and ended up being reborn in this one. There is obviously some kind of true cosmic connection with that music of the '60s and the '70s."She continued: "I love how social people were, how politically aware they were. Mobilizing massive amounts of people for one singular vision and making tremendous strides: How does that happen? I'm very fascinated by that."
As urban radio stations thump with proudly synthetic R&B and hip-hop, the organic soul and rock sound of Ms. Keys's new songs are almost defiant. But she may have enough good will among fans and gatekeepers to thrive as a nonconformist. "The climate now is not unlike the one when she first entered," said Stephen Hill, executive vice president of music entertainment at Black Entertainment Television. "There was nothing like her when she came out. And when she did 'If I Ain't Got You,' that also sounded like nothing else on the radio, but it was soulful."