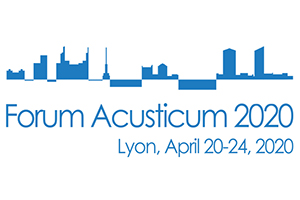 Date: To Be Determined
Lyon, France
Title: "Low-frequency Electroacoustics and Experimentation"
Presented by: Peter D'Antonio, John Storyk, Founding Partner & Director of Design, WSDG, and Rinaldi Petrolli
Language: English
---
Dr. Peter D'Antonio has been invited to present a paper at the Forum Acusticum 2020 in the structured session entitled Low-frequency Electroacoustics and Experimentation. This session will be the first scientific presentation of the Non-cuboid Iterative Room Optimzer software, called NIRO, to the international acoustics community. NIRO is a powerful and innovative, wave-based AI approach to room design, using Acoustical Intelligence. Rinaldi Petrolli, chief software programmer for REDI Acoustics, LLC will be making the presentation. Read an abstract of the presentation below:
Non-cuboid Iterative Room Optimizer
In small room acoustics, the range from the first resonant frequency up to the Schroeder frequency is dominated by modal resonances and the Speaker-Boundary Interference response. Both are very sensitive to the positioning of sources and receivers and the room boundaries. The source locations determine which modes are excited and the listener locations determine which modes are heard.
In past years, various iterative optimization programs emerged to separately determine the optimal room ratios, sources and listening positions of perfectly reflective cuboid rooms, through the use of the image-source model. This approach fails to account for scattering, phase change at the boundary and cannot be extended to non-cuboid rooms.
The present work presents a solution to those issues by using the Boundary Element Method (BEM) to compute the frequency response at low frequencies, considering the effects of the boundary's complex admittance and of all acoustical elements inside the room. With BEM as its engine, a Room Optimization Genetic Algorithm (ROGA) was developed to optimize source and receiver positions simultaneously with the room geometry, aiming to present the best possible acoustic environment given the selected restraints.
Given real-world limitations, optimizing source and listener positioning and room geometry is not always an option. With that in mind, a Damper Module was added, which addresses low frequency acoustic treatment. By using different Transfer Matrix Models, the acoustical behavior of different low-frequency treatments can be modeled and inserted into the BEM simulation, to evaluate the change in the room's acoustic field and in the frequency response at the receiving positions of interest. 3D waterfalls are used to illustrate the modal decay following optimization. Examples will be presented.
---
The European Acoustical Association (EAA) together with the French Acoustical Society (SFA) is pleased to invite you to the 9th Forum Acusticum to be held in world heritage city of Lyon-France April 20-24, 2020.
More than 1100 delegates from all over the world are expected to participate in more than 100 structured sessions.
An exhibition area will be set up for companies to display their skills and products in noise and vibration. Please visit the  
exhibition web page
 to learn more about sponsorship opportunities.