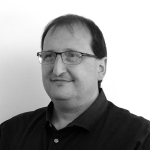 Since 1994 Sergio Molho is a founding partner of WSDG in Latin America.  He provides the technical, acoustical and architectural supervision as well as project management for all the WSDG Latin projects. Overseeing a staff of  18 as well as the 30 person Latin construction team,  WSDG Latin is responsible for over 400 world-class facilities.  In Latin America we name a few:  Soundesigner Mastering Suite, Fito Paez / Circo Beat Recording Studios, Soundrec Recording Studios, Swing Musica, Equiscosa, Atomica and others. 

Sergio provided the full AV and Systems Integration design and project management of the multi-awarded Faena – El Porteño Hotel & Universe, designed by Phillipe Starck and led the installation of the first IMAX 3D in Latin America. 

No stranger to the professional commercial music industry, Sergio Molho has worked in the audio and video industry since 1982. Beginning as an engineer, composer and producer, he has been responsible for several international productions for recording labels such as Sony and Warner.  An accomplished keyboard player and vocalist, he was the leader of CASH, a successful funk band that had its fame in Argentina in the 1980's.  Today, his areas of expertise include the management of creative audiovisual, multimedia and DVD projects. 

He is a member of the Argentinean Acoustic Chamber (AAC) and Audio Engineering Society (AES) as well as other professional organizations. He is a frequent contributor to technical workshops expanding the knowledge and education of acoustics and electro acoustics in their relationship to architecture.

In 2005, Sergio became the CEO and partner of WSDG Brazil and in 2007 he opened the WSDG Mexico office in Mexico City. Sergio serves as the Director of WSDG International Relations, contributing to the promotion and acquisition of new business and new business relationships worldwide.

Nowadays, Sergio Molho is responsible for conducting Latin, Brazil, Mexico and Asia WSDG offices. He also leads the international marketing efforts of the whole group.

Favorites
Buildings: Petronas Towers in Kuala Lumpur by Cesar Pelli, Eiffel Tower in Paris, and Pyramids in Egypt 

Music: Earth, Wind and Fire and Beatles