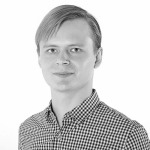 Recently named WSDG rep for Russia and Eastern Europe, Pavel Shemyakin studied Sound Engineering at the St. Petersburg State University of Cinema and Television.  He has over 6 years experience in the field of Pro Audio sales, distribution, international trade and logistics. He has also served as a brand manager for such internationally recognized manufacturers as SSL, Avid and API. Pavel is the owner of Studio Center, a St. Petersburg-based company that specializes in Pro Audio Consulting and Systems Integration. With a network of partners across Russia, Studio Center provides service for commercial and private recording, post-production and broadcast studios, theatres, concert halls and educational facilities. 

A pianist, violinist and confirmed technology enthusiast, Pavel Shemyakin also composes electronic music and plays synthesizers and groove boxes. His other hobbies include reading, travelling and snowmobile racing with his brothers. 
Favorites
Buildings: St. Isaac's Cathedral – St.Petersburg, Ostankino Tower – Moscow, The Eiffel Tower – Paris, Burj Khalifa – Dubai

Music: Depeche Mode, Alicia Keys, Helene Ségara, T.a.t.u.